Announcing Element Server Suite (23.08): the 1st edition of our new predictable release cadence
August 08, 2023
Enterprise
In the world of today's technology, maintaining a competitive advantage requires us to walk a fine line between innovation and reliability. At Element, we recognize the importance of delivering cutting-edge solutions while ensuring a stable user experience. So we are thrilled to announce the introduction of a standardised schedule for releasing Element Server Suite (ESS). Doing this enables us to streamline our development process and enhance your experience with our product.
Monthly releases
The cornerstone of our new regular release cadence is our commitment to providing a primary release each month. These releases will adopt a simple and consistent version numbering convention. Using the format YY.MM.XX, where YY represents the year, MM denotes the month, and XX is the release serial version, anyone can easily track what's changed as we roll out updates and enhancements. Throughout the month we'll still address any unforeseen issues as soon as they arise such as bug fixes and security issues.
Central to the success of these standardised release cycles is the coordination of various teams' input. By setting release dates into the future, we provide ample time for meticulous planning and testing. Through this we can ensure that everything is vetted and ready to be deployed without turbulence, guaranteeing a seamless experience for customers.
One key aspect of our new release process is improving communication with our customers. We believe in transparency and making sure you are well-informed about new features and updates. So each month, our marketing team, working in harmony with the technical and product teams, will provide detailed insights into the upcoming release.
Server profiles maximise performance
We understand the challenges faced by IT teams when it comes to optimising hardware performance. That's why with our first standard release cycle (23.08) we're introducing performance profiles to our installation process. With a few simple steps you can configure the proper assortment of homeserver workers to get you up and running. These profiles provide a simple way to maximise hardware performance according to specific use case requirements. No more guesswork – let our installer take care of scaling your homeserver efficiently, giving your IT team valuable time back to focus on other critical tasks.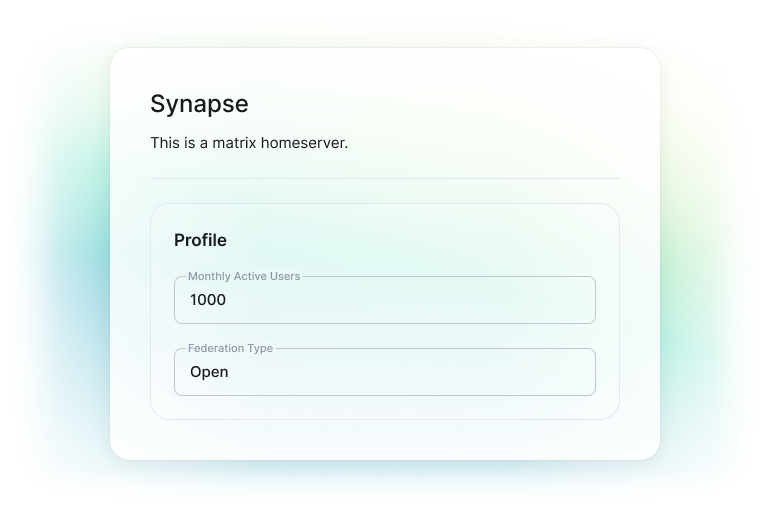 Secure just got more secure
We're also excited to be shipping the latest version of the Element Web app, featuring a much requested addition to Element Call Beta. Now, you can share your screen in Element Call without being required to share your video camera or microphone by default. This is especially useful for highly secure environments where devices with inbuilt video cameras or microphones may not be allowed. This makes it a breeze to collaborate with others while you work towards achieving your goals.
Delivering sovereignty
Our commitment to delivering Matrix-based communication solutions to enterprise customers is unwavering. We've bolstered our capabilities around Sydent: the Matrix directory server. This allows users to tie an email or phone number to your username (a.k.a. your mxID) to enable their colleagues to search for each other by email addresses. Sygnal, our push gateway for sending notifications to mobile devices without relying on Element's infrastructure, is supported for ESS customers as well. We've developed these disparate components so that customers can choose the elements they want to leverage, whilst safe in the knowledge that the complexities of deployment have been taken care of by us.
Admin Console enhancements
With this first release cycle we've also improved Admin Console, our tools and user interface (UI) for controlling your homeserver and configuring your enterprise functionality. In particular we've simplified our "Search and find" flows throughout our Server Admin tab. This is the area of the console where you can view and manage the users and rooms on your server … In the Server Admin tab we have recently:
Added new filters on the tables and made them more dynamic
Provided more control over what rooms are visible to users in their directory
Enhanced the console performance to speed up loading data
Added the ability for administrators to update users display names
Enabled administrators to see how many devices are in each room
Fixed 2-directional scrolling in tables
Accessibility for all
Across the board we've been working to improve accessibility in Element products as well as the overall user experience. We've updated keyboard controls. For example all our forms, such as logging in, now accept "Enter" as a keyboard command where previously you would have to click the mouse. Along the same lines, in this release we've improved reusability across our design components so they're more familiar, improving the readability of the UI generally as well as enhancing the usability between screens at the same time. If you want to learn more read our recent blog post about accessibility enhancements.

Be the change
This new release cadence is a testament to our dedication to customer satisfaction. By adhering to our consistent schedule we're confident we will elevate our users' experience of Element Server Suite to new heights. Keep an eye out for our monthly release announcements from now on as each version brings the future of communication ever closer. Together, we'll continue to chart the course towards a brighter and more connected future.