The NHSX and National Commercial and Procurement Hub has announced its Clinical Communications Procurement Framework. The initiative is aimed at helping NHS trusts phase out pagers and reduce reliance on email by the end of 2021, by adopting modern communication tools.
To be included on the Framework, technologies needed to be able to demonstrate that they save time for individuals and teams, support patient transfers of care, and are scalable across the NHS. Crucially, any such systems must enable staff to share clinical information quickly and securely.
That's a description pretty much written for Matrix; a secure, open network that enables data sovereignty and federates across multiple organisations - especially when associated with Element, which brings together the power of a collaboration tool with the simplicity of a chat app. The brief didn't ask for data sovereignty, but that comes free with Matrix!
In this context, the added beauty is that each and every NHS trust (and any other part of the NHS) can simply opt for an open source Matrix-based system as they implement messaging and collaboration. As a result, they will be able to easily connect and collaborate (at no extra cost) with as many other individuals and organisations as they want.
There's about 1.5 million people within the NHS; Matrix provides an organic way to have joined-up communications across the entire organisation.
Bringing services together, instantly and securely
Cinapsis, one of the approved suppliers on the NHSX Framework, has chosen to work with Element so that it can offer Matrix interoperability. Cinapsis sees the Matrix open network playing a vital role in bringing multiple NHS trusts, primary care networks, GP practices and external organisations together to provide joined-up patient services.
Using Cinapsis a hospital consultant can communicate securely with a GP or an independent care home provider in real time, using instant messaging, voice or video consulting, as well as screen and file sharing. Cinapsis stores this data on the Health and Social Care Network, protected by end-to-end encryption and cross-signed device verification.
By building this functionality on top of Matrix and partnering with Element, Cinapsis has opened the door to free interoperability between NHS providers. It also allows individual healthcare organisations to build their own instances of Element, which will also interoperate with Cinapsis. This means that NHS organisations' using Cinapsis will have interoperability.
As Dr Owain Rhys Hughes phrases it: "We have decided to build Matrix interoperability into Cinapsis because it's best in class for open-source, secure encrypted and interoperable 1-to-1 and group messaging. It allows us to future proof, as the use of messaging is only going to increase in the NHS."
"Using Matrix opens the door to free interoperability with existing Electronic Patient Record (and other) systems already in use across primary, secondary and community care. The NHS has suffered due to siloed working for too long. Matrix can be the open protocol that brings instant and cost-free communications interoperability to the NHS."
The NHS needs Universal Secure Collaboration
Element is both a collaboration tool (like Slack, for example) and a messaging app (for instance, WhatsApp).
Being both means Element is in a category all of its own, which we call Universal Secure Collaboration.
Universal means it's open (not a silo or walled garden) thanks to operating on the decentralised open Matrix network
Secure is a combination of digital sovereignty, proper end-to-end encryption and cross-signed device verification
Collaboration probably needs no explanation, but do note that our version of collaboration is open for federated working across an ecosystem from the very start
Now, if you apply that approach to the NHS, you can quickly grasp why Universal Secure Collaboration has so many people excited.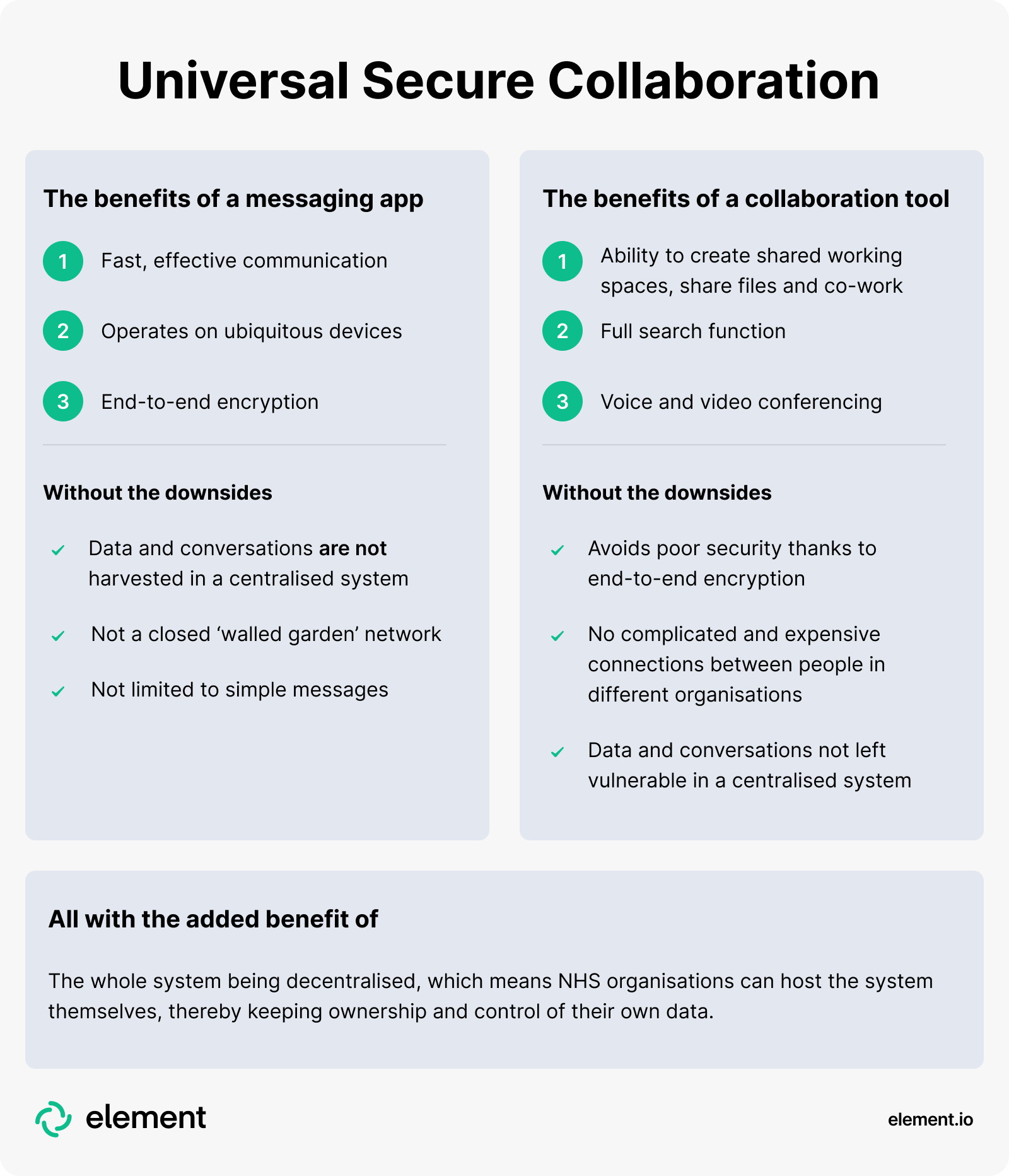 An open, federated communications network that can scale
The NHS' 1.5 million people range from frontline clinicians to back office logistics managers and finance teams.
There are thousands of different organisations within the NHS structure such as local general practitioners (GPs) and dentists, local hospitals, regional NHS Foundation Trusts, Clinical Commissioning Groups, NHS England and its equivalents, Department of Health, central and government organisations, and a myriad of other care providers and a huge ecosystem of services and suppliers.
Traditional centralised, siloed collaboration tools simply can't scale across so many different organisations. Even if every organisation was using Microsoft Teams, Slack or similar it would still be impossible for there to be a fast, flexible collaboration system in place to connect everyone. And it most certainly couldn't be largely managed by its users rather than the various IT functions having to work together.
A decentralised system that delivers data-sovereignty

To compound that organisational complexity there are, quite rightly, stringent patient confidentiality requirements in place. That raises all sorts of issues around the wisdom of committing to a centralised network that holds the nation's healthcare data (quite possibly outside of the UK).

It is far better, therefore, for each organisation within the NHS to be able to host its own messaging and collaboration data. Whether stored on-premise or in the cloud, an NHS organisation will own and control its data ensuring data sovereignty, confidentiality and compliance.


Secure by design

Messaging apps have brought end-to-end encryption into the mainstream, but such protection is still not offered by traditional enterprise software suites such as Slack and Microsoft; which therefore sees them fail to meet the NHS mobile computing policy that requires Advanced Encryption Standard 256 (AES-256).

Meanwhile most messaging apps, even ones perceived as private, such as Signal and Telegram, are still centralised which means a service provider such as WhatsApp can mine the end-user data it holds on its servers at some level. And those servers, don't forget, are most likely to be outside of the UK and therefore - regardless of Brexit - bring considerable unknowns as a result of the European Court of Justice's ruling on Privacy Shield.

Either way, as highlighted by the recent Bitcoin attack on Twitter, centralised systems also create honeypots that leave data vulnerable to being targeted by criminals or other third parties.

The data sovereignty enabled by decentralisation provides a step-change in privacy, while proper end-to-end encryption secures both messaging and collaboration data. But even that, in our view, isn't enough. In an E2EE system there is still the vulnerability of eavesdropping (the 'man in the middle' attack), which is why Element and Matrix support a unique cross-signed device verification system so that people can be sure they are not being duped.


Communication for a joined-up NHS

Universal Secure Collaboration, with the Matrix open network, could make the entire NHS and its ecosystem able to seamlessly interoperate across millions of people and thousands of organisations; with all communication end-to-end encrypted by default, and without any vendor lock-in on either the client device or the backend hosting.

Now of course there are obvious advantages as to how much more efficient communication could be within each NHS organisation, and across the NHS as a whole.

But imagine how a secure, open and real-time communications network could revolutionise the NHS.

A pulmonologist, upon seeing unusual symptoms they can't diagnose, could simply instant message a pulmonologist group within the NHS to elicit immediate feedback from fellow specialists. Imaging or other further detail can be shared and discussed, through end-to-end encryption and within NHS guidelines.

Indeed, because Matrix is an open global network, they could put the query to any pulmonologist in the world in a split second. In this scenario, permissions and trust levels can be different as it's interaction outside of the NHS but the ability to access trusted expertise from across the world in seconds is transformational.


A beautiful vision in practical steps
This is no pipedream. Matrix is an open source protocol that already supports 19 million people worldwide. Being open source, any organisation can build on what's already there.

Being decentralised, each organisation – indeed each individual – would be free to migrate at their own pace avoiding the horrors of an expensive waterfall deployment.

And while Element brings a level of expertise and readiness that will speed implementation, Matrix is - essentially - a service that is free at the point of use. And what a beautiful notion that is.
---
FURTHER READING
The NHSX says that interventions must be able to address the following critical pain points for clinical and/or operational teams. Underneath each is how Element and Matrix can address that critical pain point.

Release time for individuals and teams of NHS staff
Real-time communication and collaboration, through voice, video and instant messaging along with screen sharing, shared files and open integrations to data such as IoT.

Enable streamlined care for patients
Based on the open Matrix communications network, Element offers a federated system that enables users to connect and share information across multiple organisations; in just the same way as email, but in real-time and across voice, video and messaging.

Support with patients transfer of care
Perhaps of most importance, Element enables individual NHS organisations to host their own data so that no patient data is at risk of ending up in a service provider's centralised system. Such data sovereignty, combined with end-to-end encryption and unique cross-signed device verification, ensures patient data stays private to the team treating each patient.

Readily be able to scale widely across the NHS with at least 1 established use case
Working with Element, the French government is currently expanding the use of its Matrix-based messaging and collaboration tool, Tchap, into regional government and hospitals creating a deployment of over 300,000 users.
In Germany, Schleswig-Holstein and Hamburg are deploying the world's largest collaboration system; a Matrix-based solution offering for 500K users across public offices and education.

Have an online presence and/or WebApp available
Yes, for Web, macOS, Windows & Linux

Be downloaded onto mobile devices or tablet devices
Yes, for Android, iOS and peer-to-peer (P2P) for use and availability without WiFi or internet connectivity.