Element is a leader in The Forrester Wave™: Secure Communications, Q3 2022!
August 29, 2022
Enterprise
We're incredibly excited to share this news! In our view, being identified as a leader in The Forrester Wave for Secure Communications (Q3 2022) is a powerful validation of the benefits Element brings to large enterprises and governments. In Forrester's words Element is a great fit for "...organizations that prioritize flexibility, federation, and data sovereignty". We are always having conversations with our customers about these three benefits. Having Forrester identify our strengths in these areas reinforces our position.
Those readers familiar with Forrester's Wave methodology can skip straight to download the report, everyone else should read on to understand its transformative value…
Element is a great fit for "...organizations that prioritize flexibility, federation, and data sovereignty". – Heidi Shey, Principal Analyst. The Forrester Wave™: Secure Communications, Q3 2022.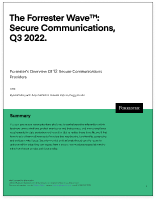 What is a Forrester Wave report?
The Wave is Forrester's in depth analysis of a defined group of technology vendors. Each Wave report is a 'data-driven evaluation' of software, hardware and services. A Wave report focuses on a specific topic such as Secure Communications.
Forrester uses its Wave methodology to structure these reports which targets three main areas:
Current offering - strength of the current product or service
Strategy - how Forrester believes the vendor will fare in the future
Market presence - the size/importance of a vendor
By using the detailed data-driven information within the Wave report, buyers can be confident about which vendor is most suited to their needs and why. The most well known aspect of a Forrester Wave is its quadrant, the chart which illustrates at a glance how each technology company performed across the three areas above and thereby been categorised as a leader, strong performer, contender, or challenger.
What is the Forrester Wave process?
The process of taking part in a Wave report is in depth. It consists of a series of major milestones (from initial selection through to final publication) and takes between five and six months from start to finish. The process includes Forrester speaking with the vendors' customers in detail to understand the product through their experiences and feedback.

Who gets chosen to participate in a Wave report?
The criteria for being chosen by Forrester include:
A broad set of product features specific to the topic being evaluated
An strong base of experienced users demonstrating established value
Interest from and/or relevance to Forrester clients
Back in March of this year, because we met these criteria, Forrester invited Element to participate in this Wave report. Six months later, we are delighted to announce we're a leader in this evaluation.
Rising rapidly
This is the first time Element has been included in a Forrester Wave. To be categorised as a leader on the first publication is, in our opinion, a strong signal that Element is delivering the right solution to customers who need it.
The Element app is secure without letting that restrict its capabilities or usability. Organisations have assurance their communications are secure while end users have an app that is as familiar as WhatsApp or Signal. Sometimes elevated security practices can make simple tasks a struggle. Element knows user friction can derail the rollout of a new business critical solution. Putting end users in the centre of our mission enables us to balance leading security practices with easy-to-use, consumer-style, layouts. This combination is, in essence, what we feel is recognised by Forrester in this report.

What makes a leader?
You will have to download the report to understand this at a granular level but we scored among the top three in the market presence category and received the top score in the strategy category, which we believe is a clear indication we are both strong and forward-thinking in these areas. To appear in the leader section, before we have developed a number of the products and features on our roadmap, is very encouraging to put it mildly. Element is still young and already making waves.
Matrix, the decentralised open standard on which Element is built, is at the core of what differentiate us from other secure communication vendors. But beyond the tech, we also share the same founders (Matthew and Amandine) and still employ the core team who created Matrix, making us the world's experts, ready to partner and compete with other solutions built on Matrix. Countless companies sell real-time collaboration tools but they aren't building it on a decentralised and interoperable communication protocol that enables data sovereignty and unlocks companies from vendors like MS Teams, Slack, Mattermost, etc.
Nevertheless there's always more to learn and ways to better ourselves. This Wave report has been a valuable exercise in turning feedback into actions. We had conversations with customers and analysts that we wouldn't necessarily have otherwise had. These gave rise to lots of new perspectives and new ideas to be carried forward into our next steps.
Today is just the start
Since the start of the Wave process we've updated our mobile sign up process and our on-premise installer, just two examples of improving our user experience. We'll also shortly be fully integrating our decentralised, end-to-end encrypted video conferencing into our product. You heard it here first!
It's not just the products and user experiences evolving quickly at Element. We're also expanding the staff headcount to accommodate our growth trajectory. We're in the process of building out our customer support teams across multiple regions, appointing a new senior product executive and continuing to add roles across all aspects of the business. We are always looking to fit the right people into the right roles.
What now?
The rate of Element's development is fast because our technology is cutting-edge. Partly this speed is thanks to the market realising secure communication is business critical. Many of the well-known business collaboration apps such as MS Teams and Slack aren't considered secure because they aren't end-to-end encrypted. Element knows that to be truly secure communications must be end-to-end encrypted by default. The value of encryption is easy to underestimate. If unencrypted information led to a ransomware or phishing incident it could cost a company millions of pounds. Also unencrypted data is more easily accessed by the wrong people (competitors or other countries) and more likely to result in personal data breaches. As all security and risk professionals know, reputational damage often presents one of the greatest organisational risks. If you are serious about prioritising data sovereignty use Element.
This Wave is the second piece of Forrester research to include Element this year. Find out more about the first piece, Forrester's Now Tech: Secure Communications, Q2 2022, which  provides an overview of 25 secure communications providers. It goes without saying not all vendors participating in the Wave process can be leaders. However, as this is the first time we've participated in a Wave report, being named a 'leader' is, for us, testament to the strength of our product and the business critical value it provides to customers.
The Wave™: Secure Communications, Q3 2022
.
Compare the top 12 secure communications providers and learn why Element receives the highest score possible in 14 criteria.