We're delighted to announce that Element Matrix Services (EMS), our flagship Matrix hosting platform, has launched a fully managed bridge for text-channels in Discord.
Discord Bridging brings interoperability between Matrix-based apps and the Discord chat platform that:
Allows Discord users text-based communication with others via the decentralised, open Matrix network
Enables EMS customers to bring their communities together, across a mix of apps and protocols
Provides interoperability, auditing and compliance across multiple real time communication channels
The fully-hosted bridge is now available within EMS via the Integrations tab of the EMS host management dashboard. A single bridge deployment currently supports up to 20 rooms by default, each with unlimited use. Multiple bridges can be deployed to support as many bridged rooms as required.  The bridge is powered by the open source matrix-appservice-discord project, written by Half-Shot with large contributions from Sorunome and others from the wider Matrix community.
This is exactly the type of interoperability that the EU wants to see as a result of the Digital Markets Act, which aims to ensure the openness of important digital services by preventing users being locked into a particular service.
Helping people be in their Element
EMS brings workplaces and communities closer together by enabling people to choose their preferred messaging service without being constrained in a walled garden.
Thanks to EMS Discord Bridging, communities and workplaces can now plug Discord users into the wider Matrix-based open universe. Discord fans can stay exactly where they are - with all the same functionality and familiarity that they are used to - while being able to talk with non-Discord users.
Matrix users, with their Matrix avatar and display name, appear in the Discord environment and vice versa.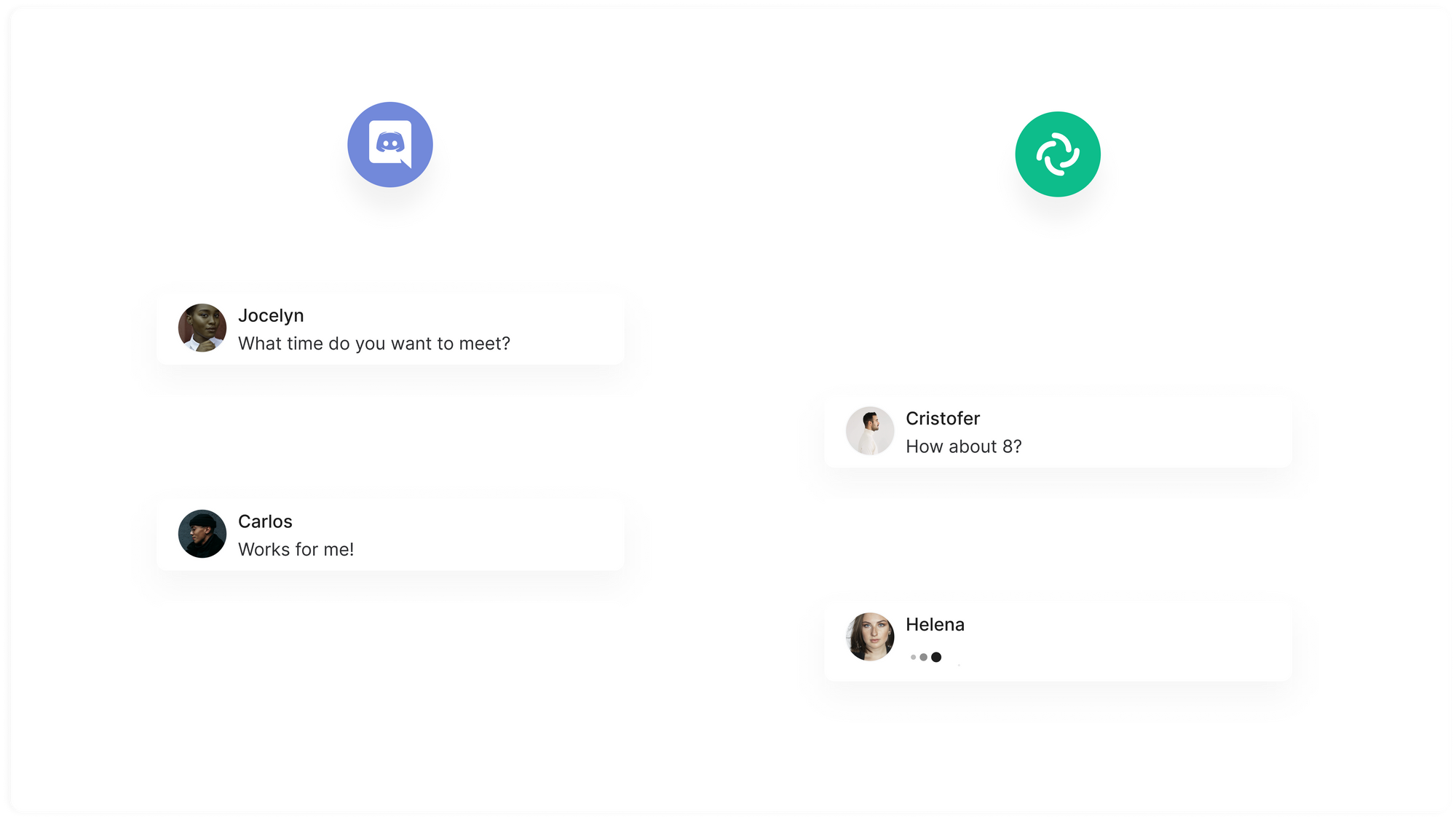 A safe, welcoming and open community
Operating as a 'home' for an organisation's real time communication, an EMS hosted homeserver is able to create shared discussion spaces that the entire community or workplace can access.
It provides an open and interoperable real time communication platform, with moderation and auditing (through audit bots) to ensure it's a safe environment.
Communities, such as Mozilla, use EMS to bring their various groups together through the open Matrix protocol. The Element client provides good accessibility for communities that want to ensure inclusivity.
Outside of Discord use cases, many companies use EMS as a way to bring shadow IT under control - letting employees use their favoured apps while being protected by enterprise-level functionality such as single sign-on. EMS-hosted Matrix-based rooms act as the organisation's official reference to ensure audit trails and compliance.
A digital-sovereign home for interoperable communication
Of most importance to both communities and privacy-conscious organisations is that EMS is a dedicated hosting service that lets its customers retain full ownership and control of their data.
For communities such as Handmade Seattle, it means that members know they can participate in discussion without being datamined (although of course those joining from proprietary apps will still be tied into those T&Cs, which will see the responses they get from people being captured by those operating from a proprietary app).
The silo-busting power of Matrix and the EU's Digital Markets Act
Element Matrix Services' launch of a bridge for Discord follows the availability of Telegram Bridging in December. EMS has increased its range of fully managed bridges off the back of the EU's Digital Markets Act (DMA) which pushes for interoperability between messaging platforms.
Matrix - as both a protocol and a network - is the missing communication layer that can brings interoperability, along with digital sovereignty and security. Through its hosting service, bridges and integration EMS gives organisations a fast track to that vision.