How to solve the 'WhatsApp at work' problem
August 09, 2022
Enterprise
Workplace use of WhatsApp is an expensive habit - so expensive it's costing five US investment banks a total of $1B in fines from the SEC 🤯!

This isn't just a Wall Street problem - it's worldwide. Germany's financial watchdog, BaFin, is investigating senior executive use of WhatsApp at Deutsche Bank.  And in the UK, the Information Commissioner's Office (ICO) has called for a review into the use of private correspondence channels by government officials – including private email, WhatsApp and other similar messaging apps used within government.
The problem arises because consumer messaging apps such as WhatsApp fail to support even basic workplace requirements. There's a lack of transparency as work-related discussions within such apps remain between the participants only, leading to shadow IT issues which pose serious security, compliance and data management problems.
This shouldn't come as a surprise. As workers seek simplicity, the popularity of WhatsApp, Signal and Telegram in the workplace has boomed. In fact, a staggering 53% of frontline workers end up using unapproved consumer-grade messaging apps at work.
Companies have failed to put compliant messaging in place
Historically companies have ignored the issue. They rarely authorise the use of WhatsApp or other consumer messengers, but are just as unlikely to crackdown on usage or offer an alternative; which signals tacit acceptance. However, as $1B worth of fines demonstrates, regulators aren't going to be as lenient.
The solution? An enterprise messaging solution that combines the usability of WhatsApp with the functionality modern businesses need. Below, we lay out the main questions businesses should be asking when acquiring an enterprise messaging solution to kick WhatsApp out of the workplace.
1) Is it as easy to use as WhatsApp?
❌ Problem: If enterprise messaging apps aren't as easy to use as WhatsApp, then people won't use them. Employees want a genuine messenger-style user experience, rather than a cut-down desktop version of a traditional enterprise collaboration tool, such as Microsoft Teams or Slack.
✅ Solution: Element offers a slick mobile-first experience with all the necessary functionalities; private and public rooms for instant messaging, voice and video calls, location and file sharing, and voice messages for effective async in an "always on the run" work environment. Meanwhile, office-based staff using it can benefit from the best-of-breed desktop collaboration experience.
2) Does it support a complex workforce?
❌ Problem: Today's enterprises are a complex mix of legal entities, regions and departments. The likes of MS Teams and Slack can't support such an ecosystem because connections with external partners or individuals are expensive; and generate additional admin burden for the IT function. That's why WhatsApp ends up being a 'workforce hack' as people can quickly and easily create their own connections and groups - just like email.

✅ Solution: Element is flexible enough to operate across multiple organisations, both internal and external. Once set up, it's easy for employees and partners to download, self-provision and connect. Chat rooms are simple to create and manage, so teams can be brought together for the smallest of projects and can be deprovisioned when the project is finalised.

3) Is it secure, and can the company manage its own data?
❌ Problem: Part of the popularity of WhatsApp and similar apps is their end-to-end encryption, which is absolutely essential for protecting sensitive information. Yet being consumer apps, there is no choice as to where messaging data is hosted - sensitive business data ends up controlled and managed by the app provider. There is no ability to self-host that data, migrate it elsewhere or manage it appropriately.

✅ Solution: Built for enterprise use, Element is end-to-end encrypted by default. Element also provides a range of hosting options. It can be deployed on-premise, self-hosted in the cloud or as a fully managed service. Through a combination of end-to-end encryption and a choice of hosting options, an organisation can stay in complete control of its messaging and collaboration data - including how it is managed to satisfy compliance requirements.
4) Can employees reach clients?
❌ Problem: Most messaging apps are walled gardens - offering no interoperability with other platforms. Employees are left having to use whatever messaging app their client uses, despite obvious compliance implications.

✅ Solution: Element allows employees to stay in their enterprise's own app, whilst messaging clients who use WhatsApp, Signal, Telegram or others. So even if clients stay in WhatsApp, the bank's employees can continue to message them and bridge the conversation back into the company's own system; ensuring an audit trail and improving customer service through integrated workflows. Oh, and avoiding those $200M fines!
Bridging currently decrypts messages from consumer messaging apps, so the bridge has to be hosted in a trusted environment; mostly likely self-hosted or through Element's own hosting solution. Future bridging services will preserve end-to-end encryption, but as an immediate fix to ensure compliance it's a powerful option and doesn't rely on getting the bank's clients to change their habits.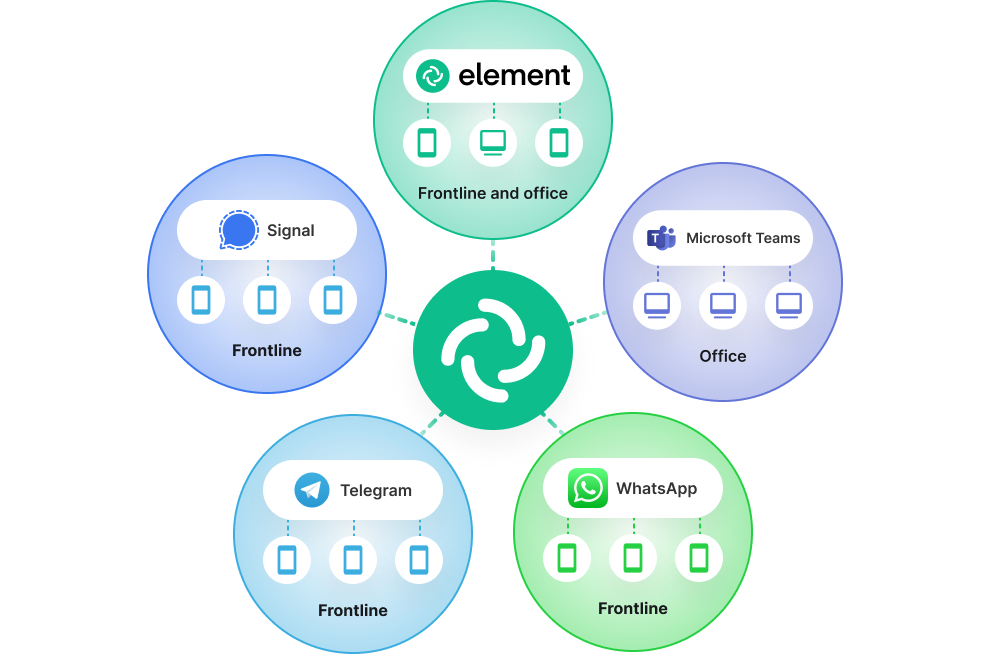 The future is an enterprise-grade messaging and collaboration solution
Email is outdated, slow and insecure. Traditional collaboration apps are not popular with employees, lack security and require too much IT admin support to use across multiple companies. Meanwhile, consumer-grade messaging apps offer companies zero transparency or control over their employees work-related conversations.
The only logical solution is an enterprise-grade messaging and collaboration platform. That's a combination of the best of WhatsApp (an easy to use messaging app with end-to-end encryption), the enterprise functionality of MS Teams or Slack and the interoperability of email to support easy communication between people at different companies. This is exactly what Element provides.
The (quite literal) $1B question is: will employees adopt Element or stay in WhatsApp? And the answer to that is, they can do either!
From our experience of working with large enterprises, the two most effective approaches to migrating WhatsApp usage into a compliant framework are:

Migrate employees to Element, which they quickly warm to, and from where they can still message their clients whichever messaging app those clients might be using.
Let employees stay in whatever app they prefer, and have those conversations from their work number bridged to the company's Element deployment as that ensures compliance.
Either way, using Element means messaging app conversations are transparent to the company, compliant and can be automatically integrated with other enterprise systems.
We can help you be in your Element. To learn more you can download the info sheet or get in touch.