Considering leaving Slack's silo for a more open and secure world? We hear you!
Element Matrix Services (EMS), the high-performance Matrix hosting solution from Element, is releasing a new service to help organisations migrate from Slack to Element; the Slack Migration Wizard.

The Slack Migration Wizard enables team leads (or IT) to move their entire Slack set-up to Element in a matter of minutes, bringing the openness and security of Matrix to their team or community. More concretely, the Wizard will migrate a complete Slack Workspace including all users, public channels, messages and files. Unfortunately, as is typical for a proprietary platform, exporting data is difficult by design to encourage lock-in. Therefore support for migrating private messages isn't available yet, but we are working on adding it in the near future.

Users can be transitioned en masse from a single Slack export file. Each person will be automatically signed up with an email address, and will get a generated password before auto-joining to all the channels they were in on Slack.

Element's Slack Migration Wizard recreates Slack channels as Element rooms. All participants are automagically populated to each room, complete with time stamped conversation history and media files.

"We've launched the Slack Migration Wizard in response to an increased number of customers that want to migrate away from Slack," says Rick Lewis, VP, Element Matrix Services. "Previously we've migrated customers from Slack as a manual service, but with numbers rising we've automated the process through this new Slack Migration Wizard, which also brings a much improved admin experience."


Like Slack, only more secure

While the pre-populated Element room structure feels very familiar to Slack users, there is a step-change in security and privacy levels. Slack is unable to support end-to-end encryption, while Element rooms are end-to-end encrypted by default. Security is further enhanced through cross-signed device verification, protecting against imposters and eavesdroppers.

Although Element is end-to-end encrypted, it is still able to support enterprise-wide requirements such as single sign-on, full search capacity and auditing.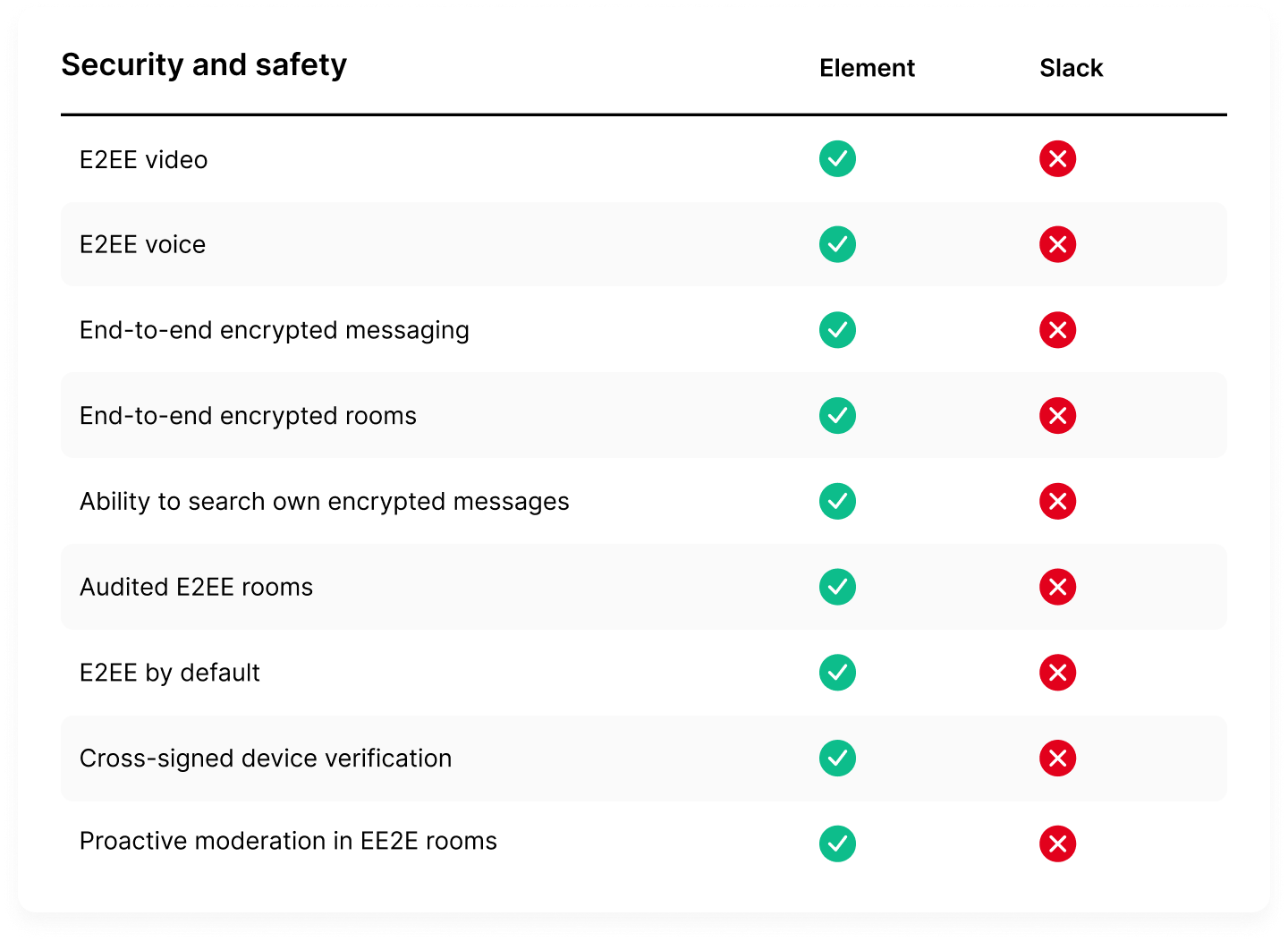 An open network for end-user empowerment
Probably the biggest change that Slack users will feel when migrating to Element is the freedom of moving from a traditional proprietary walled garden to an open network; the same feeling early email adopters got when Microsoft eventually agreed to open Exchange to the rest of the SMTP network - or moving from AOL onto the actual internet!

An open network means that Element users can easily find and connect with other Matrix-based users, as well as bridging into proprietary systems such as Slack, Telegram, Discord and WhatsApp as well as open protocols such as IRC and XMPP. Element Matrix Services already offers a range of bridges, including Slack, as well as others we'll be releasing soon.

Operating from the open Matrix network makes collaborating across an ecosystem of partner organisations far easier and a lot cheaper. It also means that end-users are empowered as they don't have to rely on a central IT function to set-up and maintain connections with the outside world.

Slack has never actually been the email killer, precisely because end-users haven't been enabled to work efficiently with the outside world. Element brings the universality of email to real time collaboration.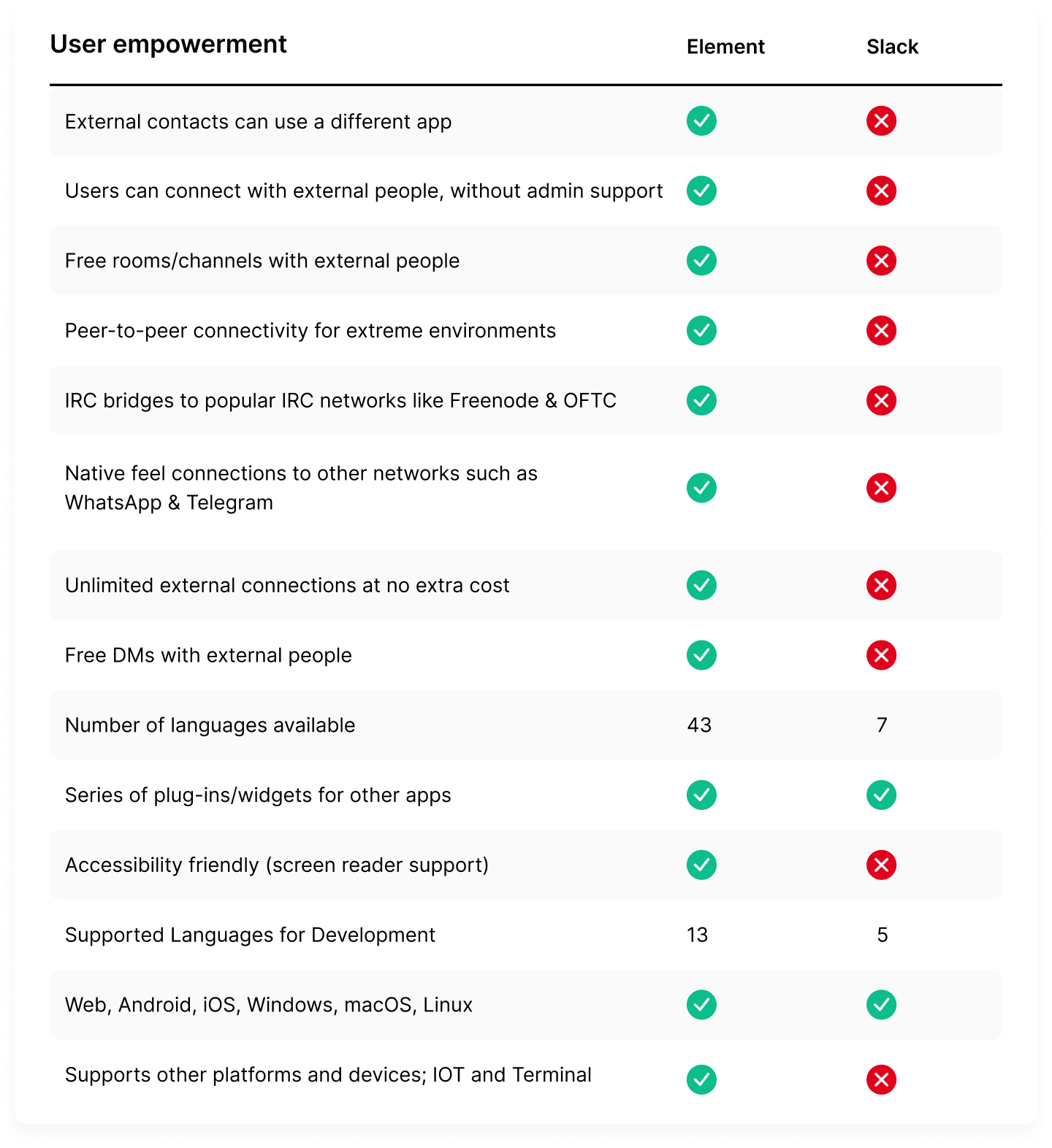 Digital sovereignty, as a service
As well as giving end-users more control, Element also gives organisations better ownership of their data.

Centralised systems, such as Slack and Microsoft Teams, store end-user data and messages on the vendor's servers - at locations to suit the vendor rather than the customer.

Element Matrix Services (EMS) lets organisations choose the location of their hosting (from the Silver package upwards). And, thanks to end-to-end encryption, EMS is unable to view any messages or files which gives far more privacy than centralised systems such Slack and Microsoft Teams that only offer limited encryption 'in transit and at rest.'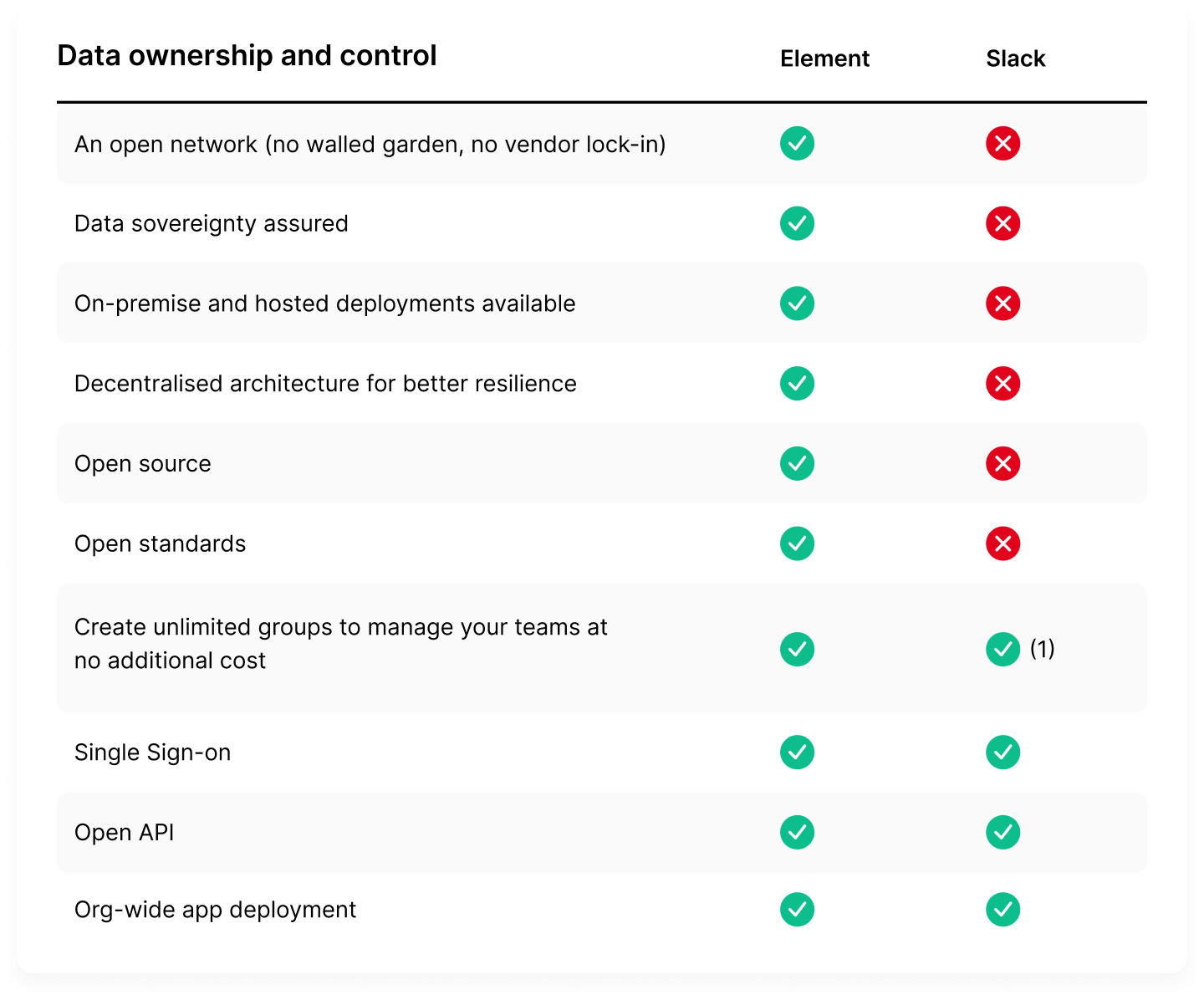 The new Slack Migration Wizard is available here https://ems.element.io/tools/slack-migration: make the jump today!