Utility companies need secure, mission critical communications
February 06, 2023
Utilities
In our increasingly volatile world, organisations are having to assess how well they can respond to a crisis. When considering their ability to communicate in a crisis, many companies running mission critical services are turning to Element.
Critical national infrastructure is a high value target for all types of physical and cyber attacks, with both profit-minded criminals and rogue nations seeking to benefit by causing major - potentially life threatening - disruption.
Sophisticated attacks look to get inside communications platforms for two main reasons. The first is that it provides a relatively low-barrier entry point for 'Living off the Land' or 'Lateral Movement' attacks; especially - if like email, Microsoft Teams or Slack - there's no end-to-end encryption to protect data once an attacker is inside the platform. The second is that an organisation's ability to respond to a breach is severely diminished if its communications are compromised as part of a larger attack.
---
Six new ways of working
.
Download our report on how secure, decentralised mission-critical communications can transform your organisation.
Download report
---
Last year's sabotage of the Nord Stream 2 pipeline demonstrates that large scale physical attacks are not just a theoretical risk. Sophisticated cyberattacks on the Colonial Pipeline Company (US), the SolarWinds supply chain (global) and key European oil terminals (Netherlands/Belgium) are just some of the recent examples that show utility firms are increasingly targeted. The comparatively mundane ransomware strike on South Staffordshire Water during last summer's UK water shortage is one of hundreds of examples of attacks that rarely make the headlines.
The need to move away from fossil-fuelled conversations
So it should be no surprise that utilities need secure, mission critical real time communications across both the company and its supply chain. Instead they have email; an exhausted fossil that is insecure, brittle and slow.
Of course there's also Microsoft Teams or Slack, but they - too - are insecure and brittle; and siloed to the point of being unusable across a supply chain. So utility firms often, especially in a crisis, end up with incident response teams resorting to the likes of WhatsApp and Signal; free consumer-grade apps with zero corporate oversight or control.
The fundamental problem with all these depleting communication platforms is one that's very familiar to utility companies; centralised networks are inherently weak because they rely on single points of failure. Every 'central server in a network' is another 'Nord Stream 2' waiting to happen.
---
The Wave™: Secure Communications, Q3 2022
.
Compare the top 12 secure communications providers and learn why Element receives the highest score possible in 14 criteria.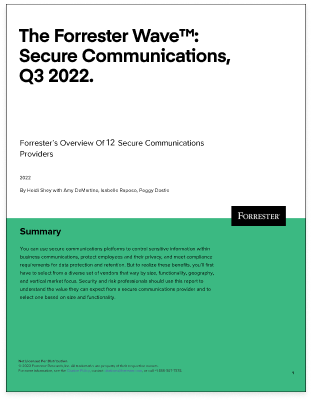 ---
A platform for progress
Imagine an organisation responsible for decommissioning two sites (in two different jurisdictions) used for energy production over the past 50+ years. Communications in this scenario are sensitive, potentially even classified, and need to be sufficiently robust and reliable to operate through a crisis.
Both sites contain physically isolated computer networks known as 'air-gapped' networks. These allow people on site to communicate while mitigating the risk of information being inadvertently leaked via the internet.
The organisation's head office (based in a third jurisdiction) isn't air-gapped. Head office communicates with the two sites and communicates with the rest of the world. Strict security measures are essential to keep information secure at all times.
Historically this has led people inside high security sites having to switch between computers and networks. One obvious inefficiency here is manually retyping messages to send them across the 'air-gap'. The margin for human error is increased, sending attachments between networks is complicated and productivity impacted.
Element is a secure, decentralised communications platform that resolves such issues. Individually hosted deployments can safely connect through a series of software or hardware-based border gateways, creating high-side and low-side environments. These restrict and permit (when condoned) the transmission of certain types/classes of information according to parameters dictated by the organisation(s) involved.
---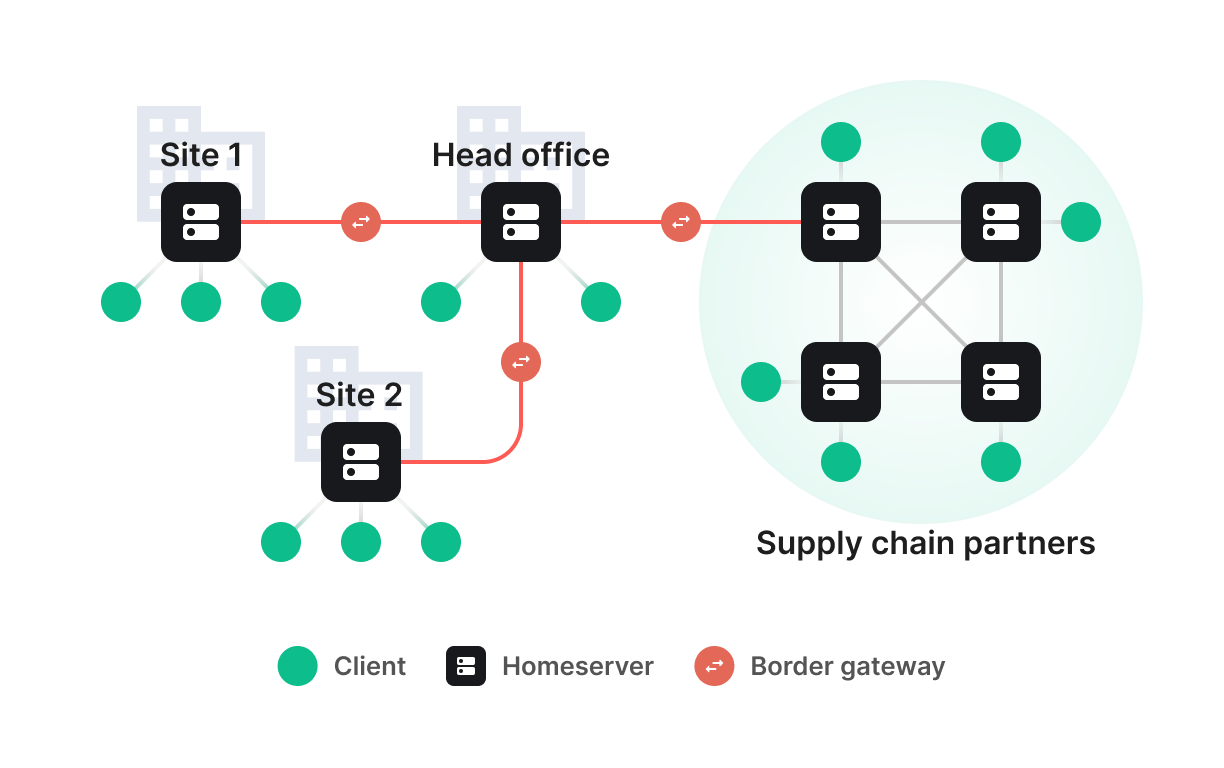 ---
A Matrix of opportunity
Element is built on Matrix, an open standard for secure and decentralised communications.
Moving from a centralised to a decentralised communication platform gives utility firms mission critical level availability, and simultaneously offers outstanding resilience as messages are able to reroute themselves as required.
A decentralised platform also gives the freedom to choose where data is stored. So each site, department or supply chain partner has genuine ownership and control of communications data. The Matrix protocol also supports non-internet connectivity, from mesh networks to Bluetooth, to ensure reliable communication connectivity in the most remote of environments.
Deployed as a separate network, Element can also be safely used for incident response; helping teams respond to attacks in real time. That the entire Element platform is end-to-end encrypted - voice, video and messaging - ensures all content shared within the platform is secured.
But the real magic comes back to Matrix being an open standard (similar to say SMTP for email), which means it's easy to use across a supply chain as no one is locked into a specific vendor.
Six new ways of working

Element gives organisations running critical national infrastructure an opportunity to revolutionise their communications, transforming working practices to improve safety and productivity.
Every utility firm is unique, so each will see their own transformational opportunities. To hopefully act as a catalyst, we have produced a report that highlights six potential new ways of working based on secure, decentralised mission-critical communications:  
Instantly cascade messages across your supply chain
Unite the workforce
Own and control your real time communications
Always available for mission-critical communications
End-to-end encryption with enterprise functionality and compliance
Secure communication across the entire supply chain
Visit the mission-critical communications page to learn how Element improves communication and resilience for critical national infrastructure organisations and utility providers.
Six new ways of working
.
Download our report on how secure, decentralised mission-critical communications can transform your organisation.
Download report