We've launched a brand new version of Element, called Element Home!

It's the Element app, but faster, personalised and under your control - all packaged up so you don't have to worry about how it works! You can just enjoy the fact you know you chose someone you trust (us!) with your data.

So that you know, here's what's going on behind the scenes with Element Home; in practice you're getting your own fully managed, dedicated server alongside your Element app. It means you have a notably faster service than when using a typical free public server - you're saved the hassle of self-hosting and it's guaranteed to be kept updated with the very latest and greatest Matrix hosting best practices.

On top of faster messaging, Element Home comes with five user accounts. It's the ideal way for a family, or groups of friends, to get a super-quick professionally hosted version of Element.

A new type of messenger

As you know, Element is completely different to most messaging apps.

Because Element is decentralised, the app itself (what you see) is separate from the Matrix hosting service behind it (what you don't see; the movement of messages and where they are stored).

That's important because it lets users decide where their messages and data are kept. In owning that choice, you also get to own your data and messages rather than having them sucked up into the likes of Facebook Messenger, Signal, Telegram or WhatsApp.

Some people choose to host themselves, and that's great. As it requires some technical knowledge, many others choose to use a free public hosting service such as Matrix.org to get up and running.

Element Home is a third option; the ability to pay for a fully managed, dedicated server (aka a 'homeserver'). Being a dedicated server, it devotes itself to just a handful of users; and that's why it's so much quicker than a typical free public server that constantly juggles thousands of users.
There are many messaging apps, but surprisingly little choice.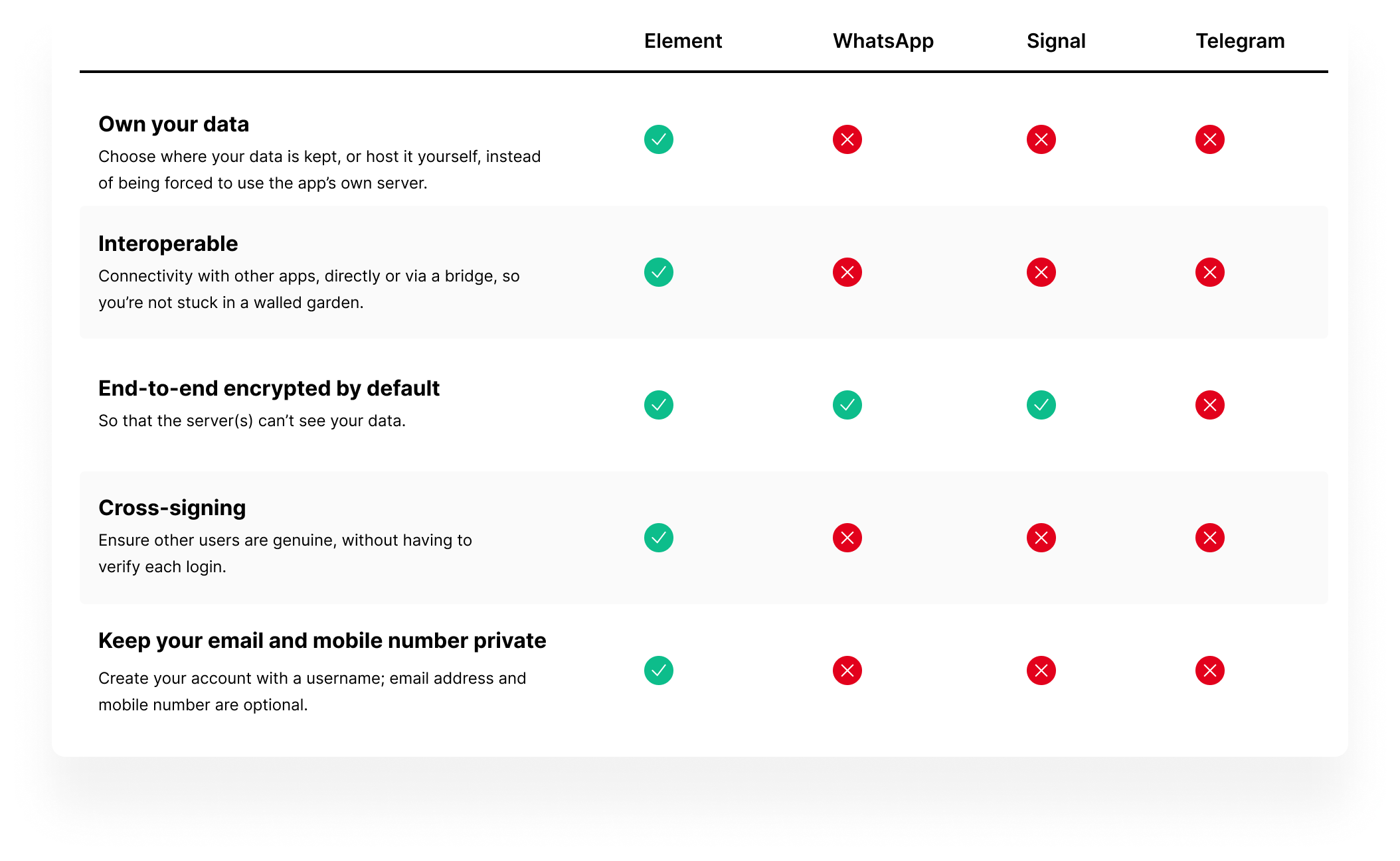 Free vs $10 per month

As you know, Element and Matrix is all about giving you choice. If you want to use the free version, that's completely fine by us!

But here's the extra you get in return for a few bucks a month:

Element Home means you're hosted by Element Matrix Services - our Matrix-based hosting platform used by big companies and public sector organisations. You have a dedicated server (so you're sharing minimal infrastructure with anyone else), fully managed and maintained by the most Matrix-savvy team in the world.

Professional-hosting means the service is notably faster than when hosted by a typical free public server, and always fully updated and maintained.

An Element domain that you can name, so you can make memorable Matrix IDs such as @yourfirstname:yoursurname.ems.host. Use your surname as the domain, and it's perfect for family sharing!

Five Element accounts - so after using one yourself, you'll have four more for family or friends - so that's just $2 per user per month for a super-quick data sovereign messaging service (you can add more users if you wish).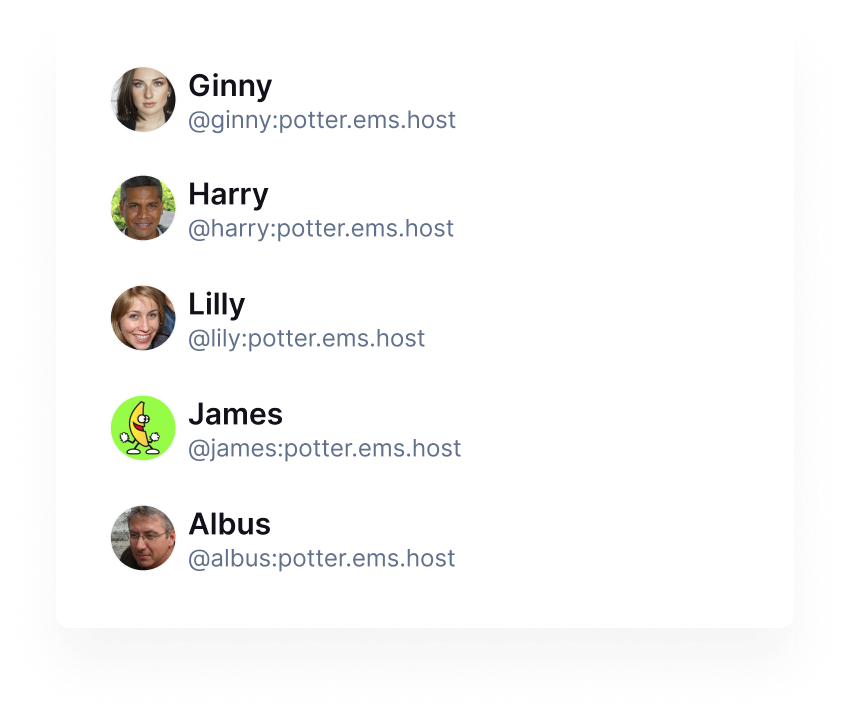 Wishing you could turn back time?!
If you're an Element user and you're self-hosting, or using a typical free public server (such as Matrix.org), you can simply copy your existing account over to Element Home. Currently, you can only do this in the Element web app (we're working on an equally simple upgrade from within Android and iOS). Once you've upgraded your 'old' account will still be live, so feel free to keep it or delete it as you see fit.

For those not already up and running on Element, just sign up for Element Home from here.