EMS launches bridging for Microsoft Teams
April 14, 2021
Bridging
Element launches a mission to connect more than 100 million people trapped on 'Good-Enough' island...
It's the big one! After offering bridges to Discord, Slack and Telegram, Element Matrix Services (EMS) is now launching Microsoft Teams Bridging.
The fully managed Microsoft Teams Bridging service lets EMS customers:
Unify their internal MS Teams users with Element users
Connect their Element users directly with Microsoft Teams users in other organisations
Give "in-the-field" mobile-first workers a first-class collaboration and messaging app, which connects to desk-based Microsoft Teams users
"Microsoft Teams is the bundled, 'good-enough' 800lb gorilla in the collaboration space," says Rick Lewis, VP, Element Matrix Services.
"For teams that need more - and there's a lot of them - Element offers far better security, interoperability and usability. And now Element users can have native connectivity with their Microsoft Teams-based colleagues and partners."
Simple per user, per month pricing
A single Microsoft Teams Bridge supports unlimited users across unlimited channels. Pricing is based on the number of active users using the bridge from MS Teams, at a cost of $0.50 per user per month. Traffic from Element (or any other Matrix-based client) is free.
Native-feel, on both sides of the conversation
Element and Microsoft Teams users can now talk and message each other, while staying in their respective apps. Depending on the bridge configuration, Element users can appear natively in MS Teams or as a third party. Microsoft Teams users appear in Element natively, but with a flair denoting MS Teams.
Microsoft Teams Bridging supports both group and individual messaging, as well as voice and video conferences.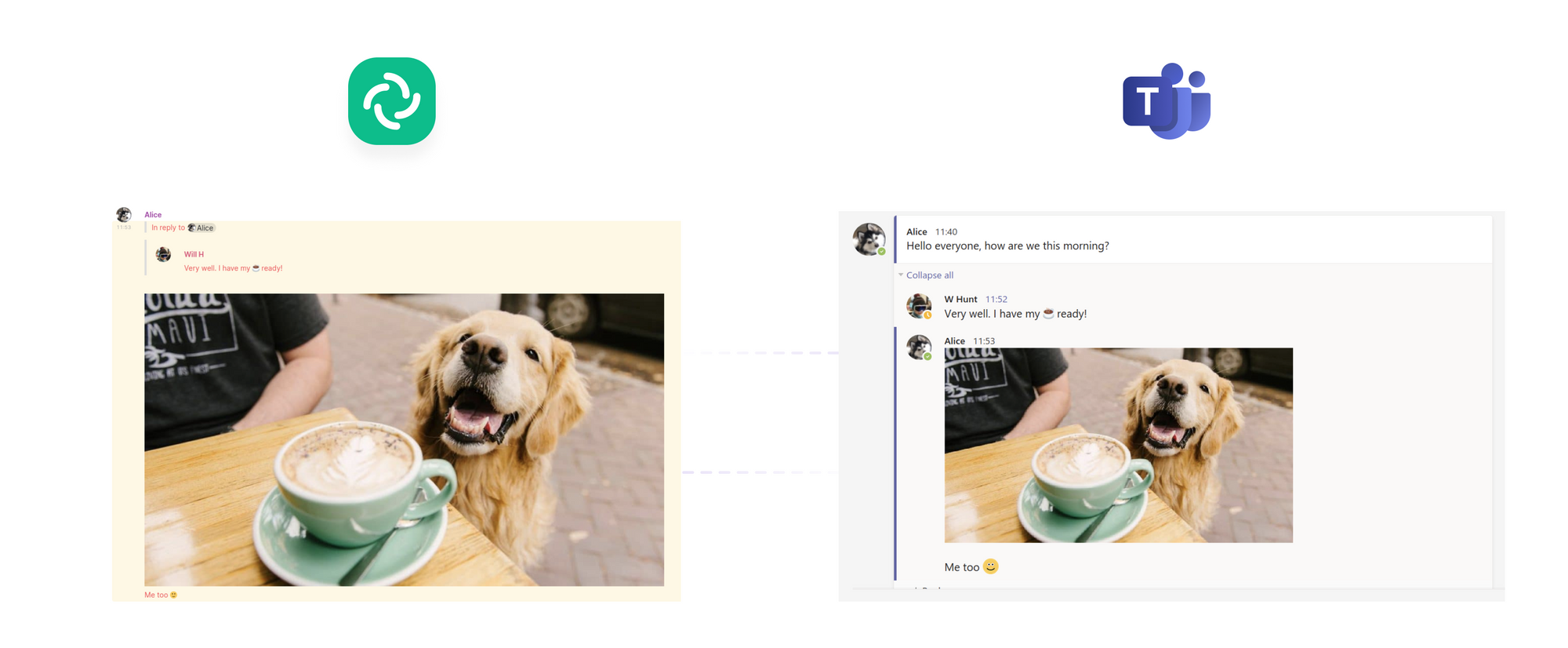 Unify internal teams
Security conscious teams can now stay in Element - which they need for data sovereign, end-to-end encrypted collaboration - when discussing non-secure matters with colleagues using MS Teams.
Element's usual end-to-end encryption by default won't apply to conversations with Microsoft Teams users (because MS Teams, of course, is not end-to-end encrypted). Unencrypted rooms as a result of MS Teams users are clearly flagged.
Microsoft Teams Bridging also lets Element act as a seamless back-up for out-of-band communications, should MS Teams suffer an outage or as part of managing a disaster recovery incident.
Similarly mobile-first teams, who typically prefer Element's messenger app UX over Microsoft Teams, can bridge into office-based users operating MS Teams.
Element is also heavily used in government, where many teams are simply not allowed to use a centralised service such as MS Teams or Slack that sees data transferred to commercial and often foreign-based servers.
Empowering end-users to collaborate with external parties
Many organisations have already made the leap to digital sovereign, open standard and end-to-end encrypted collaboration. But until all collaboration and messaging apps share an open standard, the likes of Microsoft Teams, Slack and Signal remain walled gardens.
Teams Bridging gives Element users an easy way to connect with external parties stuck in traditional proprietary apps such as MS Teams. It is precisely the type of silo-busting interoperability that the EU's Digital Markets Act is pushing for to protect against people and organisations being locked into a particular vendor or service.
Get in touch to find out more about Microsoft Teams Bridging.