2021: It's been a busy year for Element!
December 23, 2021
Bridging
Things never feel like they're moving fast enough when you're looking from the inside. But from time to time it's worth stepping back and looking at the progress - and the end of year is perfect for that.
So sit back by the fire, have a cup of mulled wine or hot chocolate (don't forget the marshmallows!) and let's dive in!
🪐 Polish and structure, welcome Spaces!

As the UK and many other countries were going back into lockdown a year ago, we were gearing up for another year of growth and improvements. The main goal on the app side was to properly attack performances and stability, but to also land Spaces.
Element gives you access to more than 43M users on the Matrix open network. Use cases range from family chat to open communities and full on secure collaboration. So we needed to let all types of users get their online life organised in a way that suits them. That's what Spaces allows you to do. Spaces was the biggest feature released this year, giving individuals and organisations an intuitive and flexible way to structure their interests, networks and rooms.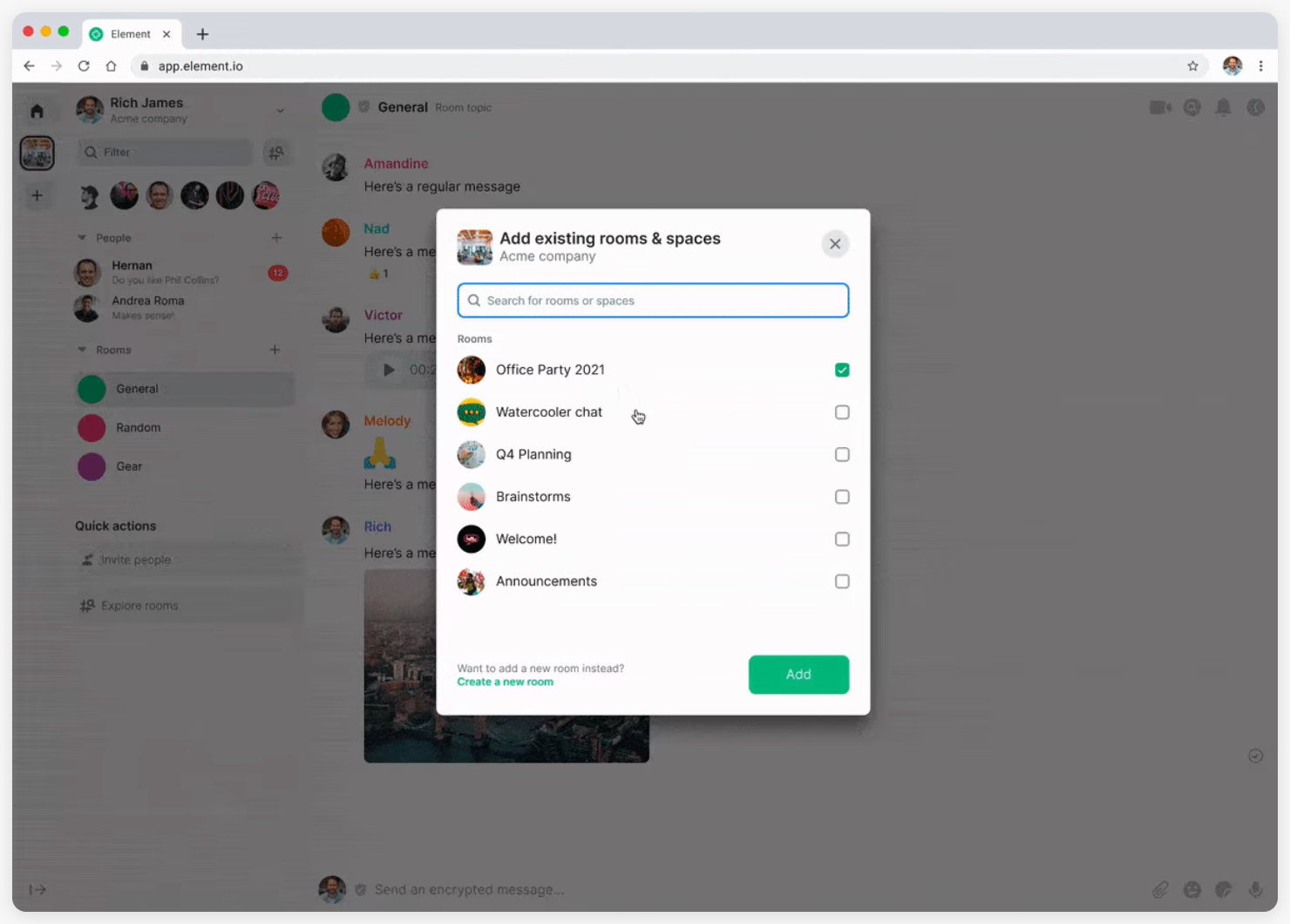 Element now also supports voice messages and work is well underway for a whole bunch of other key new features including threads, polls, location sharing, E2EE VoIP conferencing, message bubbles, new layout and more bridges - check out the public roadmap for the details. Many of these are due to appear in Q1, so we expect a speedy start to the new year!
Speaking of glossiness, 2021 also saw the landing of our new website! With a better structure, and a clear path for the different types of Element users and customers: individuals, enterprises, communities and anyone looking for tools to build on Matrix, and a ton of additional information.
☁️ Professional collaboration: between cloud and on-premise

On the professional offering side, in 2021 we made a conscious effort to align our on-premise and hosted versions of Element by making our pricing, add-ons, admin interface and support as similar as possible. Very soon the only discernible difference will be the fundamental choice between on-premise or cloud.
We also launched fully managed bridges for Microsoft Teams, Slack, Discord, WhatsApp and Signal (our Telegram bridge went live in December 2020).
Our fully managed versions of Element – Cloud and Enterprise Cloud – are the principal options for private-sector businesses. Small companies are moving their entire workforce to Element in one go. With larger companies, we're seeing the most security-sensitive functions adopting Element first - senior management, cybersecurity, DevOps and the like - followed by wider adoption.
On-premise deployment - with Element providing packaged deployment, consultancy, development and on-going support - is still dominated by governments and the most security minded of commercial organisations. Notably, Element on-premise is increasingly being implemented as a direct Skype for Business Server replacement.
Element on-premise is now used by the French, German, UK and US governments and we're in various proof of concept and pilot stages with more than 10 other (mainly European) governments.
🛍 What about consumers?

Enterprises and governments are not the only ones looking for secure and privacy conscious communication. We expanded and refined our offers for consumers so that everyone can own their conversations, and launched two hosted versions of Element for consumers.
The first option, Element Home, is a fully managed instance for a family, household or small group of friends; five accounts (more can be added) all based off of the same hosted homeserver instance for matching Matrix IDs.
The second offer, Element One, is a single hosted Element account which comes with bridges for WhatsApp, Telegram and Signal - so the Element user can stay in Element while messaging friends who use the other apps.
👷‍♀️ Supporting those building on Matrix

Element's mission is to grow the Matrix ecosystem, and as such it is key for us to ensure that it is as easy as possible to build apps and provide services on Matrix. This is where Element Matrix Services (EMS) comes into play. EMS provides Matrix-based hosting for those building on Matrix, in other words: Matrix infrastructure as a service.
We took huge strides in 2021 to make Element Matrix Services a flexible option for organisations that want to embed or develop Matrix-based messaging for their own products.
Due for launch in early 2022, a new service will make EMS the fastest and most reliable way to add E2EE messaging to an existing website or app. It's been built with any such use case in mind, but in particular as a way for Germany's healthcare organisations to embed Matrix-based messaging to make themselves TI-Messenger compliant.
🏄 So where is Matrix at? Surfing the privacy zeitgeist…

A proper report is available in the yearly Holiday Special blog on the Matrix side, but suffice it to say that growth has been explosive.
The pandemic has been hard for everyone on a personal level and - even for a company that embraces remote working - it's presented significant challenges; from looking after our team, to impacting customer-facing time.
The role of real time communications has become even more important. For many organisations it's brought home just how important it is to ensure the teams have secure, enterprise-level collaboration and messaging.
Digital sovereignty, end-to-end encryption and easy - interoperable - connections are all part of the solution. And so is the user experience which, done right, stops collaborators from opting for consumer-grade apps.
Digital sovereignty, in particular, is why Matrix and Element are being so enthusiastically adopted, in particular by governments. Even regulators are realising that interoperability is critical, with the EU ensuring that its Digital Markets Act (DMA) is forcing Big Tech's walled gardens to open, as is the US ACCESS Act. Element announcing the launch of the Coalition for Competitive Digital Markets, alongside 50+ other organisations, was another big milestone of this year.
Overall unease continues to grow around Big Tech, centralised systems, surveillance and the sheer scale of cyber attacks. People and organisations are increasingly concerned about just how much of their data is being sucked into profit-seeking algorithms. They are less and less trusting of Big Tech, as a result of the Cambridge Analytica scandal, the nefarious manipulation of the major social platforms to swing votes and polarise opinion, and the various flavours of nation state surveillance. The response to WhatsApp's privacy policy changes said it all. People don't trust Facebook, and it'll take much more than a rebrand to change that.
We've seen global outages from the major centralised messaging services in every single month of 2021, notably Facebook's family of tightly weaved products in October. March saw attackers use a Microsoft Exchange Server vulnerability to get access to organisations' email; a rude reminder that emails are not encrypted. In June EA Games experienced an entirely different kind of Command and Conquer, having been breached via Slack.
It's a combination of such trends that is seeing governments and large companies move away from centralised vendors that try to lock-in their users. Governments want to ensure a genuine ownership of data. They want end-to-end encryption to protect government and citizen data. They want open standards, to avoid lock-in, and open source for transparency and freedom. And it's why we're seeing initiatives such as the entire German healthcare system embedding Matrix as its messaging standard.
All in all, the zeitgeist is putting Matrix at the centre of multiple answers. And it showed, with a 65% growth of users in the network since the beginning of 2021 - up to 43M. Meanwhile the 30-day retention figure (the number of people who are still active 30 days after initially signing up) for the matrix.org server almost doubled across the year - reflecting first time user experience (FTUE) and performance improvements for both the Element app and matrix.org. Both daily active usage (DAU) and monthly active usage (MAU) for the matrix.org server also doubled across the year.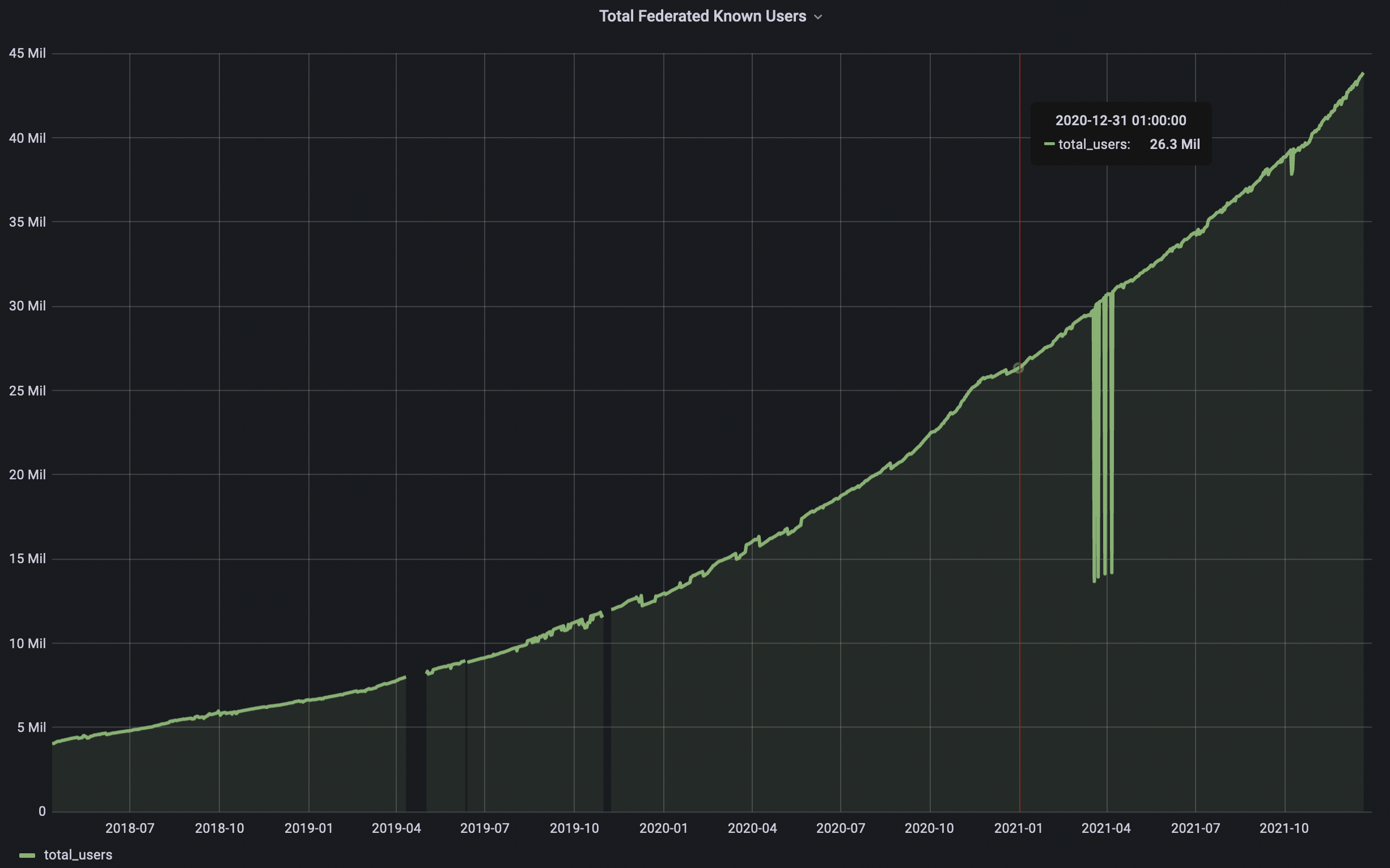 And last but not least, we closed our Series B funding in July - and again a big thank you to Protocol Labs, Metaplanet, Automattic and Notion for their support - giving us a springboard for an even busier 2022.
The raise also allowed us to scale accordingly and, at year end, we're now around twice the number of people than in January. The bulk of that recruitment was from September onwards, which means we're going into 2022 with quite some momentum and a jumpstart on threading, E2EE VoIP, P2P and all the rest of it!
So be ready, 2022 is looking to be even more exciting as we reach another level of polish and delightful user experience, just as the world continues to converge towards the need for a decentralised, secure open communication standard. In the meantime, thank you for your support, we're incredibly excited by what lies ahead! 🚀