A white label messaging app to create your own brand messenger
February 09, 2022
EMS
Want a secure custom branded web-based messenger, but don't want to pay a fortune?
You can have exactly that using Element Cloud, from just $15 per month!
A branded Element web app is ideal for organisations and communities who want all the benefits of open and secure end-to-end encrypted messaging, but with a customised interface to make it look like their own.
From $15 per month (based on £3 per active user, with a minimum of five users), you can bring your community together under one brand without the cost and hassle of developing your own app. You can use a custom domain name and your own brand colours and logo on a web messaging app, with just a few clicks! We'll explain how…
How organisations are using a branded web app
There are a number of benefits and patterns organisations are experiencing when adopting the Element web app to create their own branded messaging app.
1. Connecting communities
Element is designed for communities, supporting both public and private rooms, including powerful moderation tools to keep them safe. KDE, the international free software community, uses a custom branded version of the Element web app, making their members feel welcome knowing they are in the right place when logging in. It also has customised landing pages with links to key rooms that members can easily discover and access.
2. Communications for privacy conscious organisations
With default end-to-end encryption, Element is ideal for communities who want to offer a safe space to their members. For example, a charity organisation can set up secure and confidential rooms, with a branded web interface and domain can help reassure members that they are in the right place.
User accounts are not linked to a phone number, helping users who might want to remain anonymous when seeking help.
3. Branding your app to look native for customer support
Organisations can save time and money by simply rebranding the Element web app. It's ideal for organisations offering customer support that need secure, end-to-end encrypted messaging for confidential conversations with customers.
Financial services firms often gift their customers a fully hosted user account, as part of their commitment to secure communication. Other organisations advise customers to set up a free (Element branded) account using a free public server such as matrix.org.
---

Cost efficient messaging with enterprise features
A white label web app is available on Element's fully hosted paid plans. Starting from only $3 per active monthly user (with a minimum of five users), you can bring your community together with the benefits of unlimited E2EE messaging, voice and video calls and a powerful admin interface to manage your community safely.
Here's how to build your white labeled web app
Once set up on your Element Cloud or Element Enterprise Cloud account, navigate to the "Manage servers" page from the dropdown menu of your account. Here's where the customisation begins:
Choose your theme mode to be either light or dark.

Add your brand name, rather than your users seeing "Element," you can use your own brand. Similarly, you can also use your own domain to make branded Matrix IDs such as @username:yourbrand.com.

Add a URL pointing to your logo to replace the standard "Element" logo on the login page.

Update the welcome content when users login. The default HTML template can be found on our GitHub.

Welcome page image, in addition to setting the content (text etc.) shown on the welcome page, you can also override the background image for the page.

Home page content is the content or background that your users will see on the homepage when logged in to their account on your custom Element web application.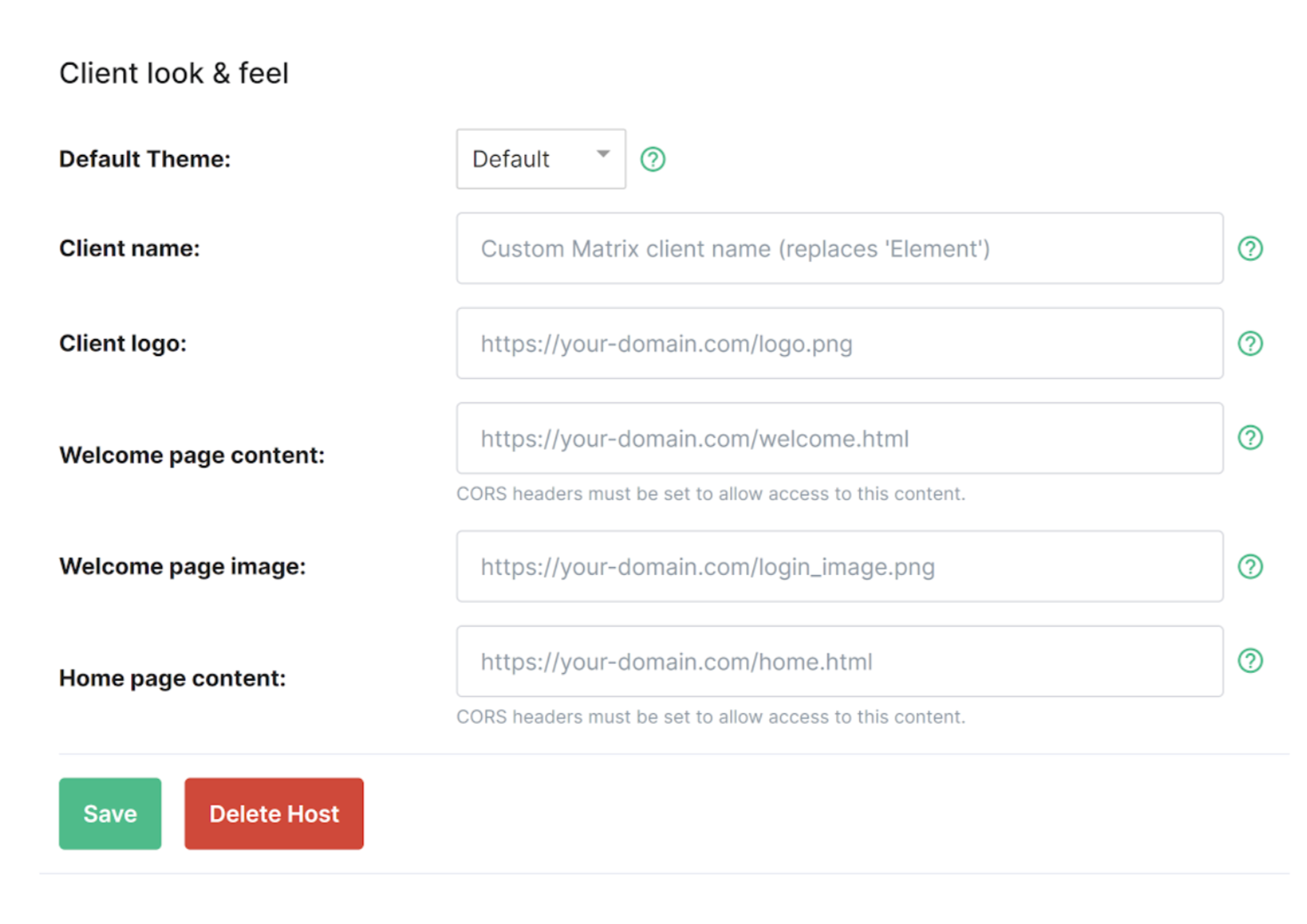 ---
Got a question?
If you have any questions about getting set up, or branding for your company or organisation, support is available in #ems:matrix.org. Alternatively contact our sales team here if you need more specific customisation.