Simpler plans for Element, on-premise and cloud!
October 11, 2021
Accessibility
You may have noticed the Element website has had a bit of a refresh today.

We've made it a little easier for people to navigate according to how they want to use Element - there are now personal, community and enterprise tabs in the top navigation bar.

Simultaneously we've distinguished Element Matrix Services (EMS) a little more, to make it clear that EMS offers hosted Matrix infrastructure directly to developers so they can build on Matrix.

Hopefully people can more easily find the information they are after. Do let us know how it works for you!


Helping people choose the right Element

We've also tried to make it easier for people to choose the most appropriate version of Element.

Element is, of course, free and open source software that can be used self-hosted or using whatever server you like! That will always be the case - the more people using Element and Matrix the better!

The vast majority of our website traffic is to simply access Element to use with a free hosting option, and we've kept that journey as quick as possible.


Paid versions of Element
There are also paid versions of Element for those that need or want fully managed hosting and support.

On the consumer side there's Element Home which offers your own server with five accounts, a customisable Element subdomain and matching Matrix IDs. We're launching a new consumer product soon; more about that when it's ready for launch. Paid versions of Element for the personal/consumer use case are detailed within the Personal section of the website.

For communities, while many are happy to self-admin, some communities prefer to offload the hosting and management; we can definitely help with that as we already do for Mozilla, KDE, GNOME and others! We can even support an on-premise community deployment if that's what's required.

Enterprises (and we include everything from small companies to nationwide government deployments in this category) typically want a subscription style service, giving them all the benefits of Element provided directly by the experts who created Element and Matrix - with guaranteed support and a reliable deployment that reflects the very latest best practices for running Element at scale. Some want on-premise, and we support those deployments too.

New pricing plans
Trying to keep things as simple as possible, there's now just two pricing plans that cover the needs of communities and enterprises. The prices are the same whether Element is deployed as a hosted service or on-premise.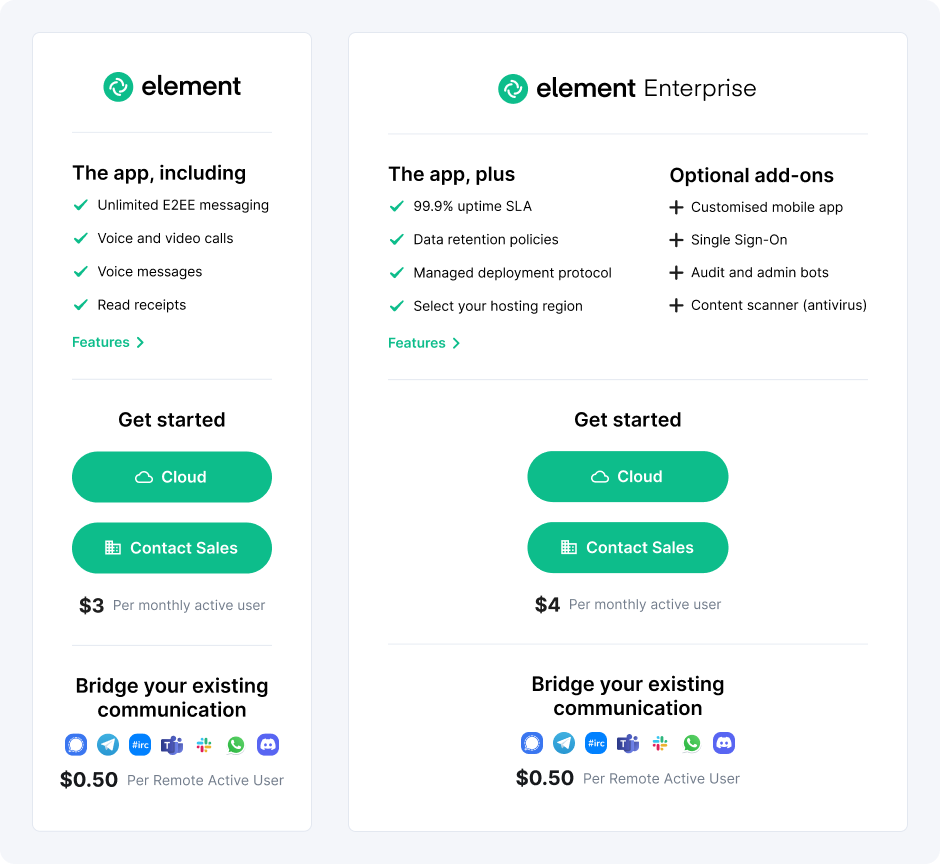 The baseline plan roughly replaces the old Nickel and Silver pricing plans. Deployed as Element Cloud (from five seats) or Element On-premise (from 250 seats) it costs $3 per monthly active user. It includes Element Matrix Services' admin interface and support within one business day.

Element Cloud offers multi-tenant based hosting, with support for custom DNS. Bridging services are available as additional extras.

The Element Enterprise plan replaces the Gold and Platinum pricing plans. Deployed as Element Enterprise Cloud or Element Enterprise On-premise, it costs $4 per monthly active user. As you might expect, it has broader enterprise functionality including data retention policies, managed deployment protocol, mobile security pack and a 99.9% uptime SLA. Optional add-ons include bridging services, Single Sign-On, antivirus scanning and audit bots.

Element Enterprise Cloud offers multi-tenant hosting, and can be a single tenant for customers with more than 500 users.

What does this mean for current customers?
The simplification of the paid versions of Element doesn't impact current customers. Those on previous plans simply stay on them, in grandfather fashion. Nonetheless it's probably worth pointing out that there's no hidden price rise in the new plans; it's still either $3 or $4 per monthly active user. The main gist of the new plans is to simplify the naming and align the support we offer for Element, whether it's deployed Cloud or On-premise.

Thanks for using Element, and particularly if you help fund development by using our paid offerings. We look forward to providing even more interesting services in the near future!