Element launches Chatterbox!
July 07, 2022
EMS
Say hello to Matrix-based end-to-end encrypted embedded chat!
It's a surprise to most people that the majority of embedded chat is not end-to-end encrypted (E2EE).
And that's perfectly understandable. You'd automatically think that a healthcare insurance firm would provide its customers with E2EE webchat. Or that when you're in your bank's app, the live chat would be E2EE. But it's generally not the case.
Test it out now - open your banking or healthcare app and ask if the live chat is end-to end encrypted. Chances are it'll be a long wait for a reply, followed by a discreet 'no' and references to HTTPS and SSL.
So…. We're outrageously pleased to launch Chatterbox, an embedded chat built on Matrix! It gives companies and public sector organisations a super easy way to upgrade their security, by simply switching to end-to-end encrypted live chat within their websites and apps.
Inspired by Germany's healthcare system
As is so often the case, necessity was the mother of invention.
The entire German healthcare system is adopting its own messaging standard (TI-Messenger), to help protect healthcare information by keeping it both data sovereign and E2EE. The TI-Messenger standard is Matrix-based, and will be used by more than 150,000 healthcare organisations across Germany to support its 83M citizens. All of which means that Germany's local doctors, clinics, hospitals and insurance companies will need to add TI-Messenger compliant messaging and VoIP to their existing websites and apps.
That scenario set us thinking about how Matrix-based embedded chat can act as a 'rising tide' to improve secure communication between companies and their customers.
Element already has a large number of companies in sectors such as private banking that give their own customers an Element account, but Matrix-based embedded chat enables that level of security on a far larger scale.
And for the hundreds of security-conscious organisations that already use Element for collaboration and messaging, Chatterbox is a beautiful complement - extending the benefit of end-to-end encryption to their customers and prospects by using Matrix-based chat in their websites and apps.
Why use Chatterbox?

The big differentiator for Chatterbox as an embedded chat, is that it's end-to-end encrypted.
If your live chat use case is better served by end-to-end encryption - from banking or healthcare, to counselling services or technical support - then Chatterbox is an ideal solution.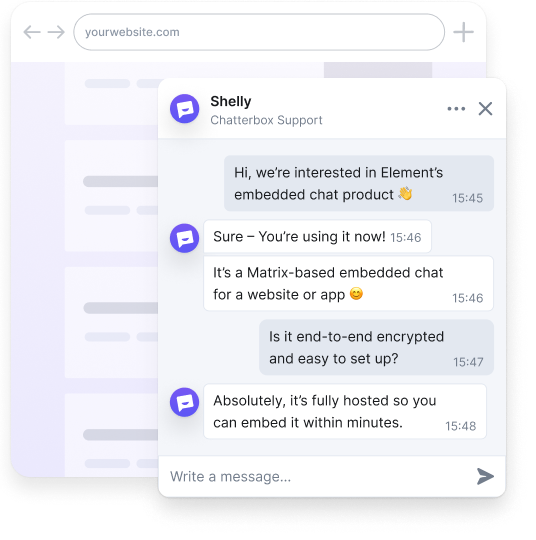 It doesn't feel any different for customers and prospects - there's no need for them to register or create an account just because it's E2EE, and it still supports persistent messaging. And from the company's side of things, there's an array of options around automation, query routing, workflow and productivity to ensure excellent customer service.

Chatterbox can be deployed on-premise, or is available as a hosted solution. Either way the company owns and manages all its customer conversations (meaning the company retains its data sovereignty), making compliance crystal clear and very straight forward.
Chatterbox is just as quick and easy to deploy as a standard embedded chat, despite being E2EE. That's because it's built on the Matrix open standard, and the Hydrogen open source SDK, so all the painstaking work of creating an E2EE stack is already done. Chatterbox is open sourced under the Apache License too, so you can check yourself that it will not bring any nasties to your websites or apps and tweak as needed: check out the code on Github! Those with existing web and in-app chat can upgrade to E2EE with little more than a few clicks, by choosing our fully-managed hosted version which provides a few extra bells and whistles to help manage the routing of conversations for agents.
And finally, being Matrix-based, Chatterbox is interoperable with any other Matrix-based app. So it's not just conversations with customers and prospects via websites and apps that are E2EE, but subsequent internal discussion too if Chatterbox connects to Element or another Matrix-based platform.
And the price?

Pricing is competitive. The cost of Element is from $3 per monthly active user (MAU), if you don't have it yet. Chatterbox is then an additional $0.80 per external user (again, on a MAU basis).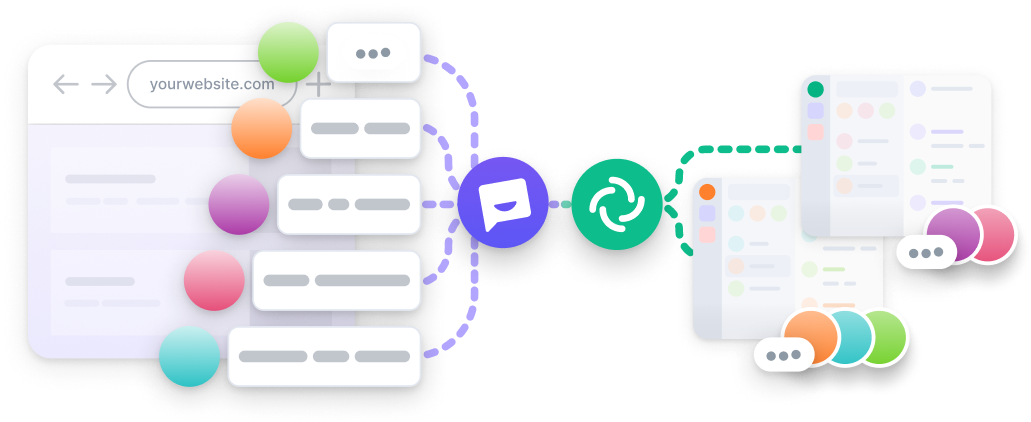 Got a question?
Not a problem! You can download our info sheet or contact our sales team here.