A huge new update for Element Call Beta 3!
July 11, 2023
Element app
I can't believe it but it's been a year since we last updated you about the progress of Element Call, our Matrix-based VoIP product. We haven't been resting on our laurels though, a huge amount of work has been going on over the last twelve months, and today we bring an absolutely massive new update in Beta 3 of Element Call.
The challenge we've been working on since launching the full mesh version of Element Call last year is adding a selective forwarding unit (SFU) so that we can support much larger calls than the roughly 7-10 participants that can be supported in full mesh. We have made good progress with a MatrixRTC-backed SFU built directly on Pion (waterfall), but there is still a lot of work needed to deliver stability and a consistently excellent call experience. But with LiveKit (also built on Pion) recently adding end-to-end encryption, we've now seen an opportunity to use the power of the open source ecosystem to skip ahead, ship a stable product much more rapidly, and avoid 'reinventing the wheel'.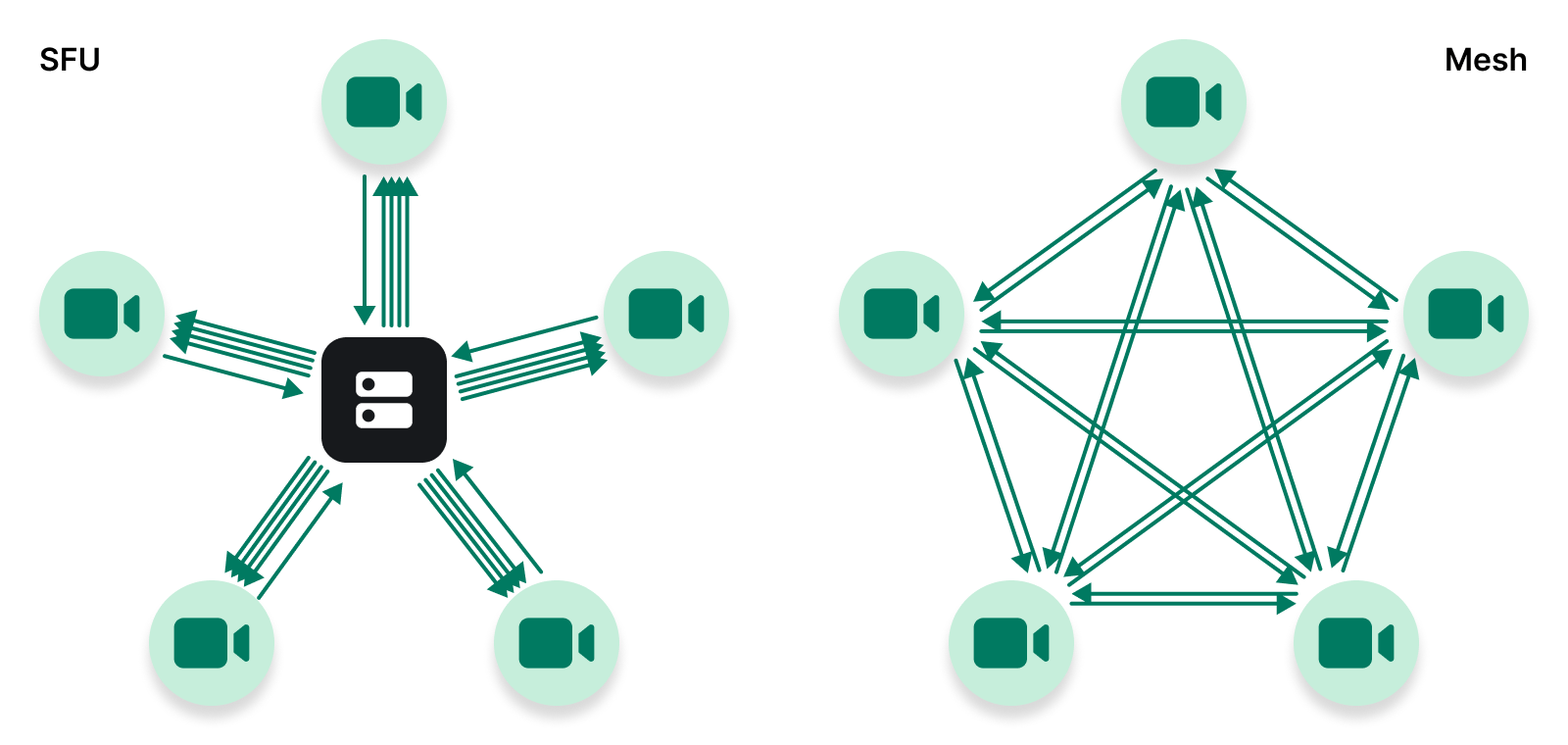 LiveKit offers an open source (Apache 2 license) real-time SDK for video, audio and data along with an SFU that allows conferences to scale to several hundred participants. We have used this, along with Matrix signalling and our existing front-end, to deliver an updated version of Element Call that can comfortably support calls with up to 100 participants and potentially many more! Meanwhile MatrixRTC development will continue - supporting a common language for new signalling abstractions (eg LiveKit) as well as pure WebRTC signalling for Matrix.

It is important to note that despite LiveKit supporting end-to-end encryption, we haven't yet hooked it up to Matrix and so in the very short term, the latest release of Element Call is temporarily not end-to-end encrypted. However, we are working hard to add this in and anticipate a second update by the end of July which will reintroduce e2ee. We have added an icon and text in the SPA so you can be confident that you know when your calls are end-to-end encrypted.

User experience enhancements

We've received great feedback on the user interface for Element Call, and how different it is to other VoIP products out there. We've kept all of that but have, of course, needed to ensure that it scales for the much larger calls we now support.
You'll now find that, as your call grows above a certain number, it will seamlessly switch into what we're calling the 'large grid layout'. In this layout, every participant has a small tile showing their video if their camera is on, or an avatar if their camera is off. You can freely drag and drop these tiles around, and can expand them by double-clicking on them. That allows you to create whatever layout works for you; perhaps having several members of a panel discussion expanded and positioned next to each other, or expanding your own tile if you like to keep an eye on your facial expressions while you're on a call!

If someone on the call starts screen sharing, we'll automatically switch the call into spotlight mode to give better visibility of the shared presentation, but you can always switch back to the large grid layout if you prefer.

Client integrations

The most exciting thing about all of this is that now we can support larger calls, we're in a better position to begin to integrate Element Call into the Element clients, and reduce our reliance on Jitsi.

If you're a user of our develop/nightly builds of Element Web/Desktop then you'll already find an option in labs under Voice & Video to turn on the 'New group call experience' and try using Element Call for your group calls in place of Jitsi.

Meanwhile, we are working hard to get the same experience integrated into Element X, our brand new mobile clients launching this month, and expect to have this available by October this year.

Much more to come

Of course, as always, there is lots of work still to be done, and we have a huge and exciting backlog of features to make Element Call even more usable for your meetings and events. That includes better administration and moderation controls, in-call collaboration tools, chat integration, call recording, and lots more. We'll keep you updated as all of these new features land.