Voting for a new feature in a messaging app? Deciding where to go for lunch? Soliciting friends' advice on whether to go on that second date?! We all know the pain of group decision-making, especially in busy chat rooms.  We've seen creative uses of reactions as an informal way to see which option is most popular, but a lot of you have been asking for the ability to run proper polls.
So…. we're really excited to announce the launch of polls in Element (implementing the Matrix spec proposal MSC 3381)! This new feature is available in Element Web/Desktop 1.10, Element iOS 1.7.0 and Element Android 1.3.16.
Polls in conversations
Polls allow anyone with 'send messages' permissions in a room to post a question in the form of a poll with up to 20 possible responses. Other users in the room can vote on their favourite option and, when they're ready, the poll creator can end the poll so everyone can see the result.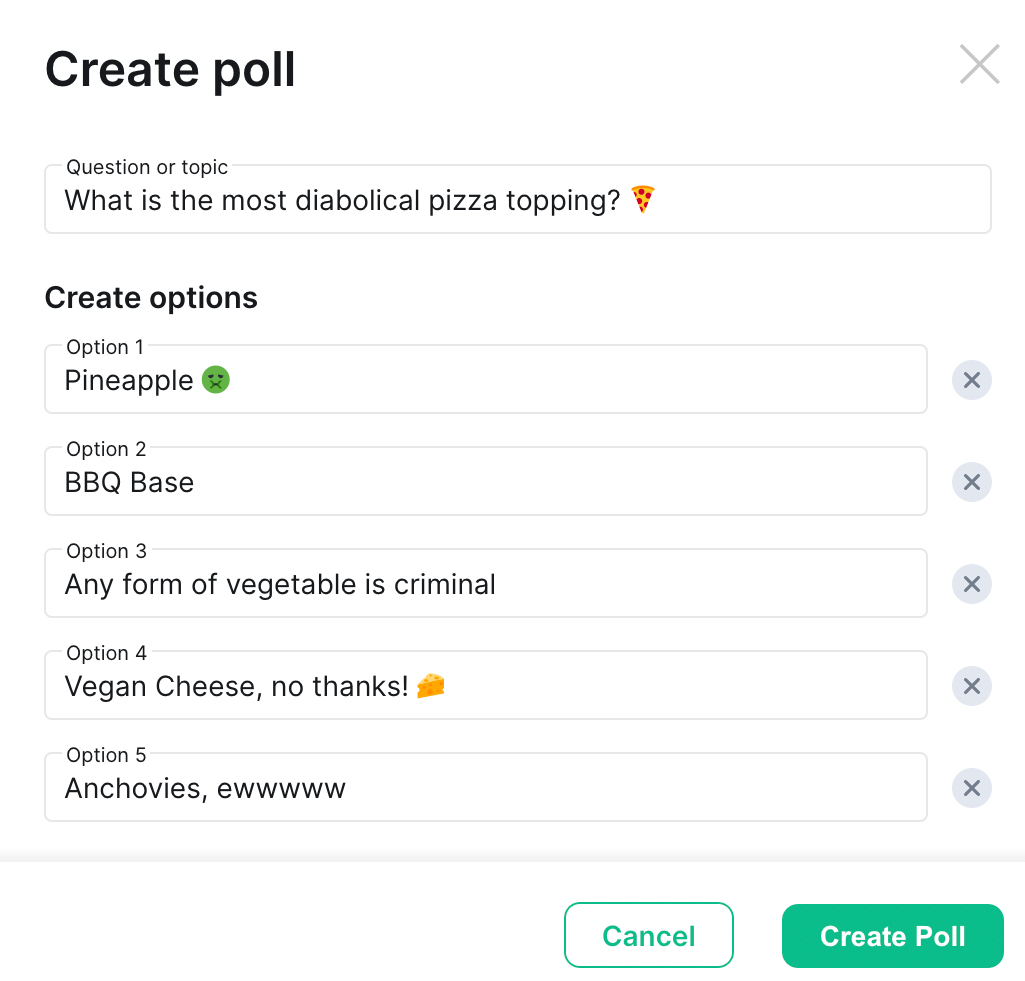 How to use polls
Once you have the latest version of your Element client installed you will see a graph button in your composer. Click that to create a poll.
Then, all you need to do is:
Enter the question you want to ask
Enter at least two, and up to 20, possible responses
Click 'create poll'
Watch the responses roll in!

Users who have voted will be able to see the results straight away, but other users in the room won't see the results until you end the poll. You can do this by clicking the extended menu icon and choosing 'end poll'. Once the poll is ended, no more votes can be submitted or changed, and the results will be visible to everyone in the room.
End-to-end encryption
Polls posted in encrypted rooms are end-to-end encrypted, as are the votes. However, it's worth noting that we haven't designed the feature to be suitable for voting on decisions of real consequence. That's because Matrix's end-to-end encryption removes any audit trail or ability to prove who voted for what in retrospect (so-called "deniability"). Great for privacy, of course, but it does mean results can't be used as a reliable record of who did what. So, it's probably best if you stick to using Element polls for things like - choosing takeaway or agreeing the correct pronunciation of a popular image format.
---
What's next?
We're loving this feature, but of course we're already thinking about how to make it even better. Some things we have in the pipeline are:
Enabling editing and re-opening of polls
Allowing multi-selection polls, so respondents can choose more than one response
Enabling hidden polls, where the results aren't visible even to voters until the poll creator closes the poll.
Automatically populating polls with a range of dates as possible responses - great for picking a day for an activity
Please give it a go and tell us what other features you'd like to see!