Secure collaboration for DevOps and DevSecOps
.
Element integrates for DevOps. Continuously.
Integrations and webhooks for CI notifications

In chat room commands

End-to-end encrypted

On-premise or in the cloud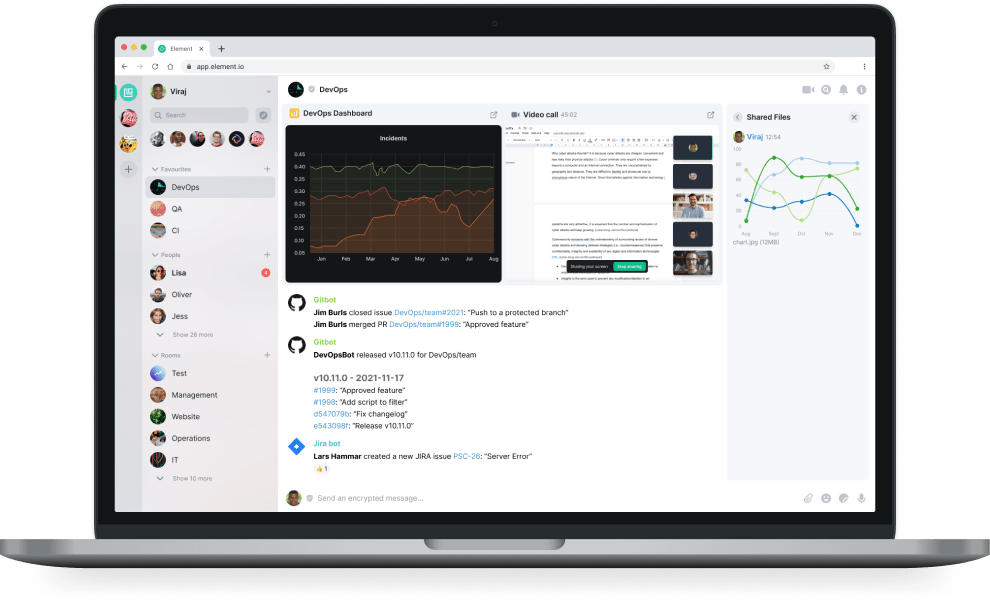 Connected and in control
.
Combine real time discussion and workflows by connecting the applications powering your continuous integration (CI) to your chat. Receive CI notifications and send commands without having to leave Element.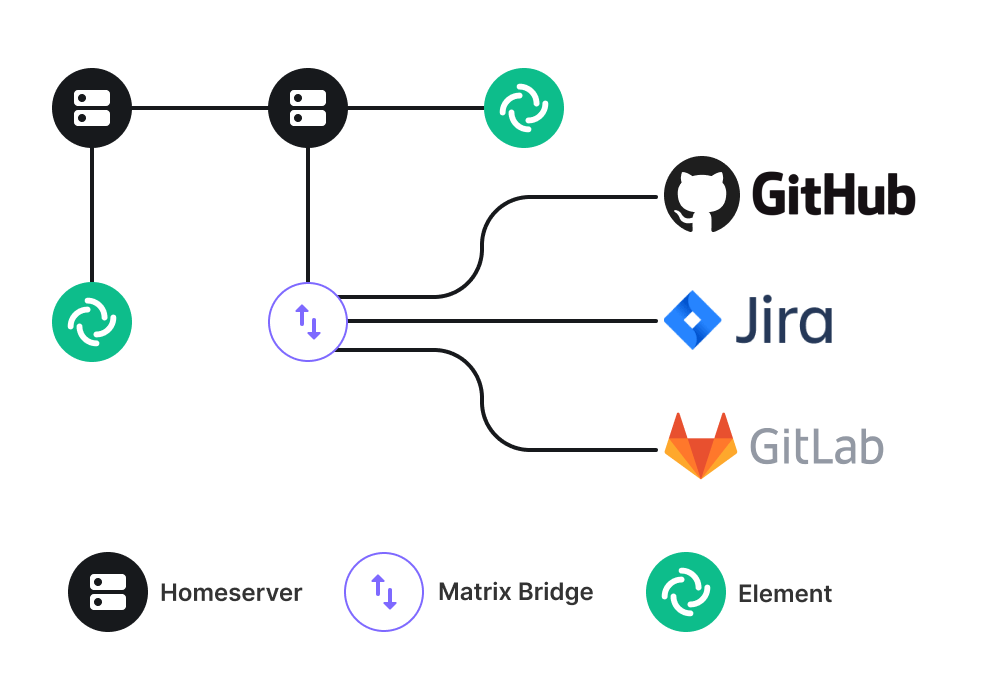 Watch a short demo to learn how Element:
Enables teams to collaborate in real-time, while streamlining workflows through GitHub commands.

Is a secure and reliable solution to keep DevOps teams connected.


Allows developers to send commands or receive outputs all from the comfort of one app.

Fast and flexible
.
Element is as friendly on smartphones as it is on desktops.
‍
Widgets enable automated in-room information sharing, bringing live data to real time decision-making by integrating with Grafana or other apps.
‍
Powerful integrations let Element users receive notifications and send in-room commands.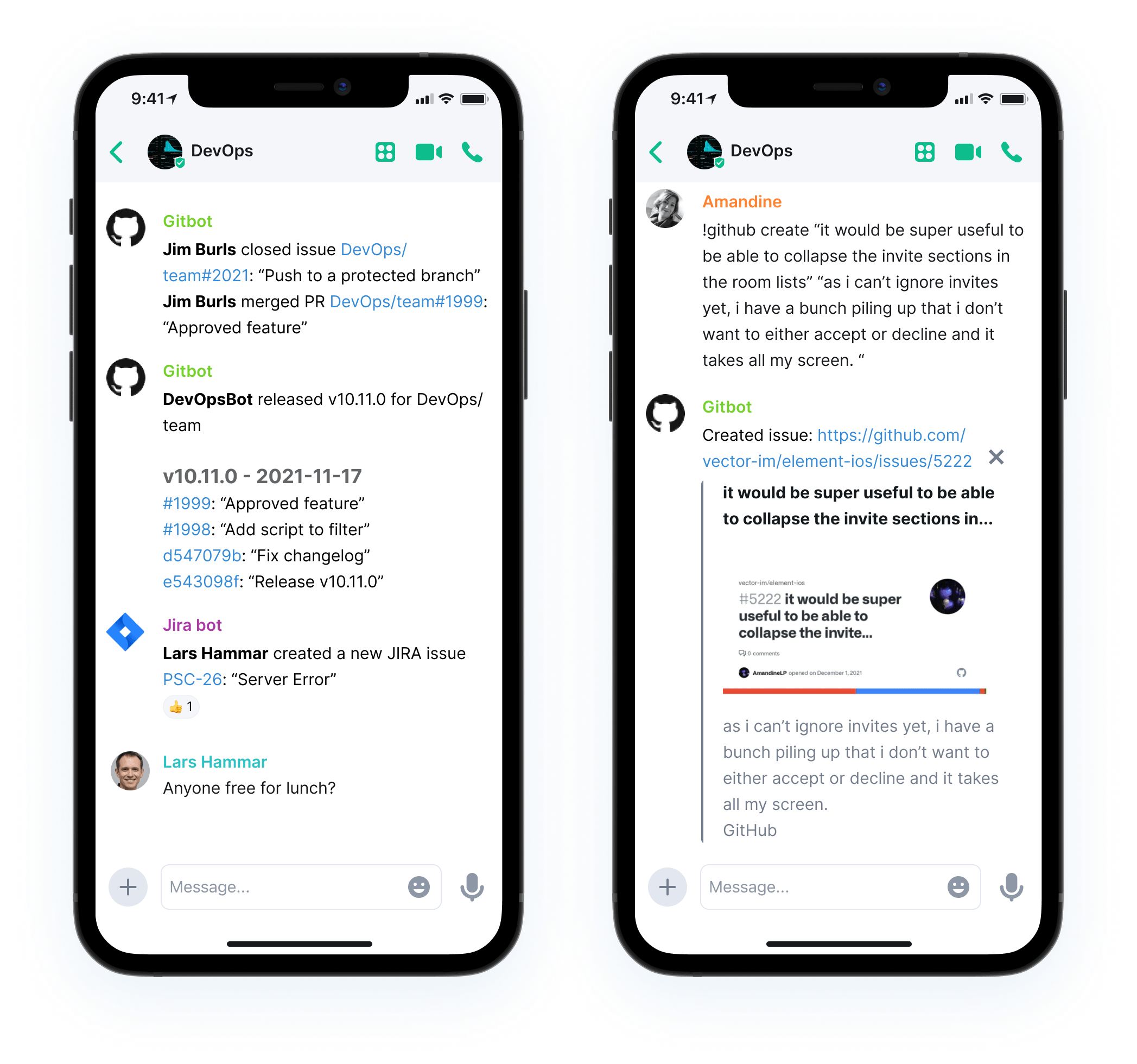 Building bridges with others.
Even high performance DevOps teams can be constrained by adjacent teams and departments. 
‍
So Element doesn't just integrate with the DevOps toolchain.
‍
Element also interoperates with traditional collaboration apps such as Microsoft Teams and Slack, building bridges between DevOps and other parts of the organisation.

Element is unique.
Element is the most secure and flexible collaboration app for DevOps and DevSecOps. It delivers data sovereignty and preserves your independence by building on the Matrix open standard.
Element
Mattermost
Slack
MS Teams
Integrations and webhooks
On-premise or cloud deployment
Data sovereign, even in the cloud
Widgets for live data feeds
The Wave™: Secure Communications, Q3 2022
.
Compare the top 12 secure communications providers and learn why Element receives the highest score possible in 14 criteria.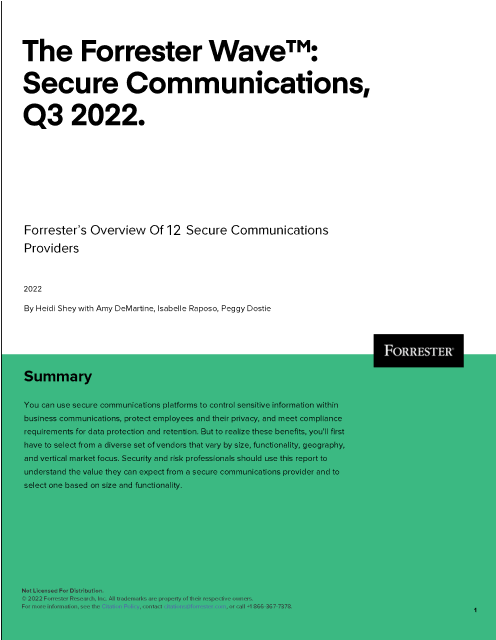 Now Tech: Secure Communications, Q2 2022
.
Build the business case for secure communications and understand how to assess, select and implement the right solution.
Built on Matrix
Matrix is an open network for secure, decentralised communication, connecting 80M+ users over 80K+ deployments.

Governed by The Matrix.org Foundation, the Matrix protocol is an open standard with open source implementations, supporting a vibrant developer ecosystem. Element was founded by the team behind Matrix as a way to bring it to the mainstream.