Skype for Business Server (S4B) replacement
.
Element is a secure, end-to-end encrypted alternative for Skype for Business Server (S4B).
Secure 1:1 and group VoIP

Complete collaboration platform

End-to-end encrypted

On-premise or in the cloud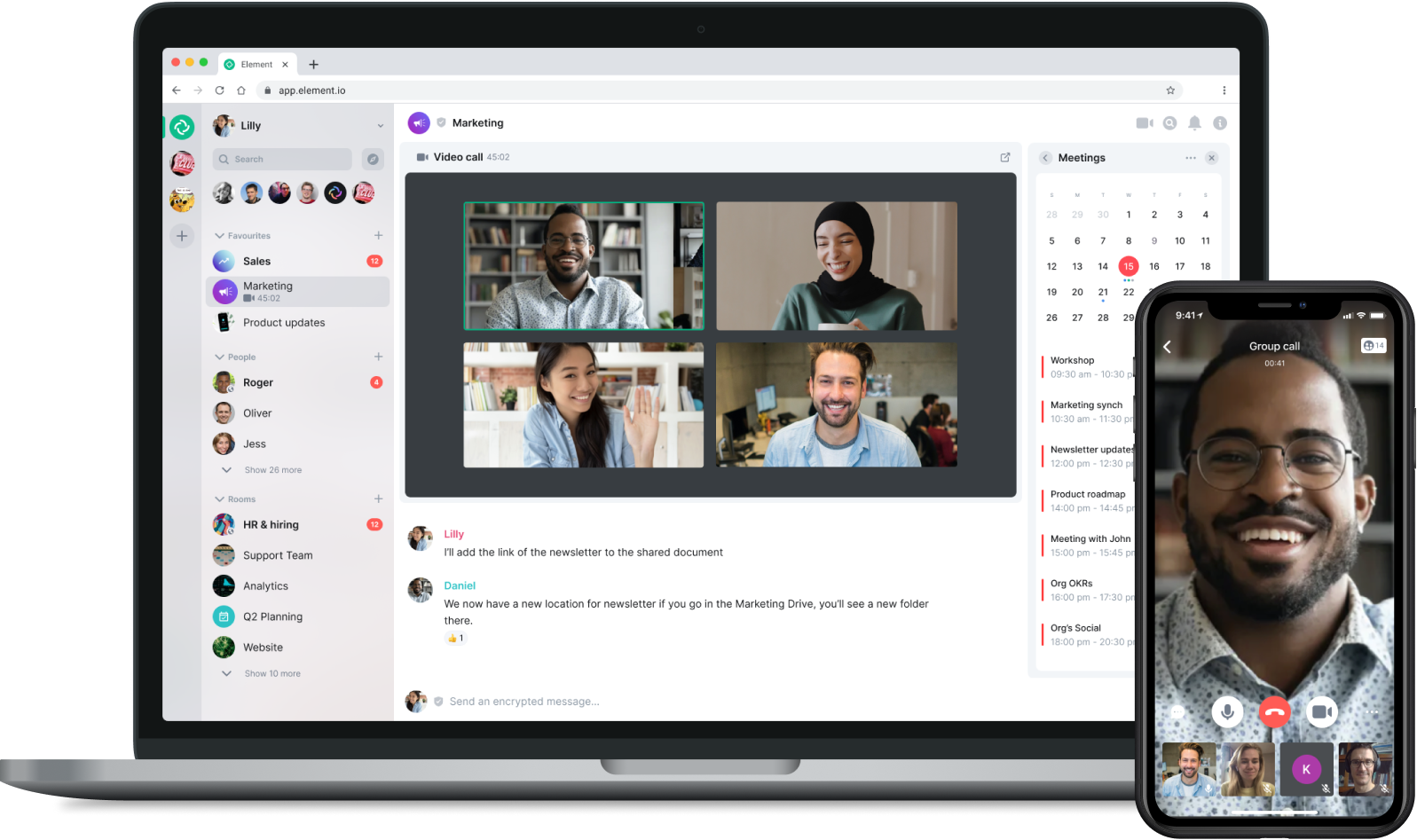 More than a Skype replacement
.
Element replaces Skype for Business VoIP capabilities, and offers the transformative power of a modern - and unique - collaboration platform.
‍
Empower your users with easy voice and video calls, secure connectivity, lively chat rooms, persistent messaging, productivity boosting in-room widgets, data feeds and integrations.
1:1 and group voice and video

1:1 and group messaging 

Powerful admin functions and permissions

Voice messages, read receipts and reactions

Editable messages

File and screen sharing
Flexible deployment for
security-conscious organisations
.
Element can be deployed on-premise, as a fully managed hosted service or a combination of both.
‍
Multiple homeservers can give individual departments their own system - and data sovereignty - with private federation providing secure connectivity across an entire organisation. 
‍
Element also supports air-gapped, low-bandwidth and peer-to-peer environments.
Learn more
Delight your users
.
Delight your users with an intuitive messenger-style interface, on desktop and mobile. Single click 1:1 and group voice or video calls, flexible room creation and chat settings, in-room widgets, data feeds and integrations.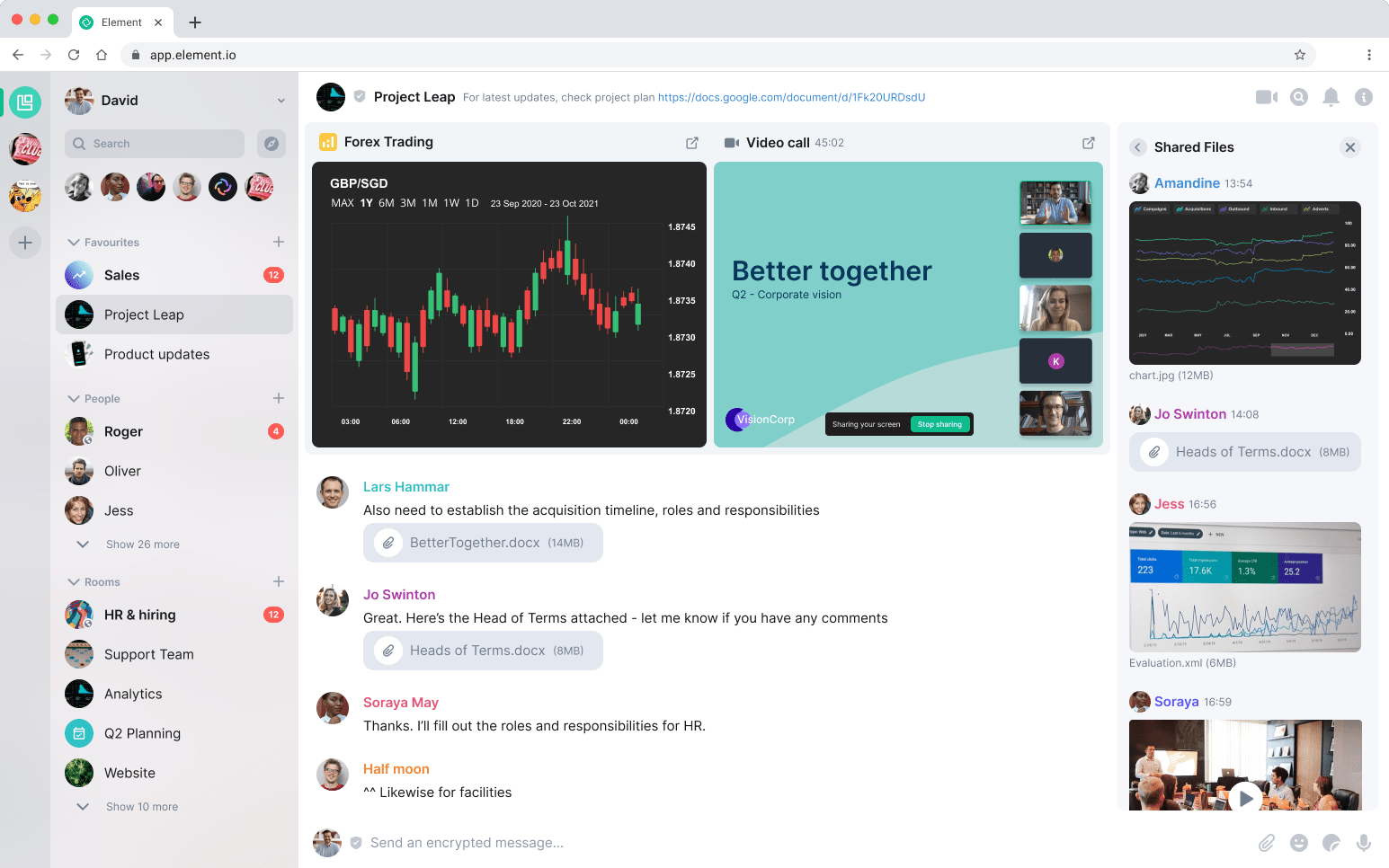 Spaces to organise people and discussions

In-room widgets; from calculators and calendars to Spotify

Integrations to share and analyse data in real time

Emojis, polls, stickers and reactions to stimulate discussion and decision-making
More secure than Skype for Business.
Fast and simple migration
.
Skype for Business Server is approaching End of Life, and it has no on-premise migration path. 
‍
Element is the natural replacement. It offers the same data ownership model, but with the added protection of end-to-end encryption and a complete enterprise messaging and collaboration platform.
‍
Element is helping all types of organisations migrate from Skype for Business.
‍
Our Skype bridging service, in particular, helps large organisations migrate per department or by region. It enables Element and Skype for Business users to message each other, with a native look and feel, without switching apps.
‍
And of course, being Matrix-based, Element also bridges to traditional collaboration and messaging apps such as Microsoft Teams, Slack, WhatsApp and Signal.
Learn more
A unique Skype for Business replacement.
Download info sheet
Skype
MS Teams
Cisco Webex
Rocket.chat
Mattermost
Wire
Element
Cross-signed device verification
Microsoft Teams is not a secure replacement for Skype for Business Server
The University of Innsbruck chose Element over Microsoft Teams to be its university-wide real time collaboration platform for 5,000 employees and 27,000 students; all hosted on-premise.
Read the case study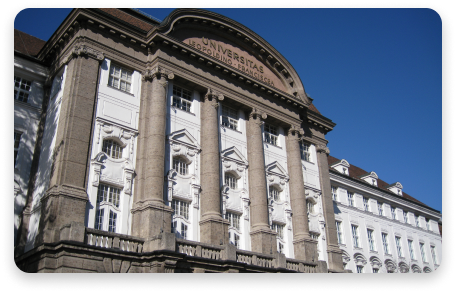 The Wave™: Secure Communications, Q3 2022
.
Compare the top 12 secure communications providers and learn why Element receives the highest score possible in 14 criteria.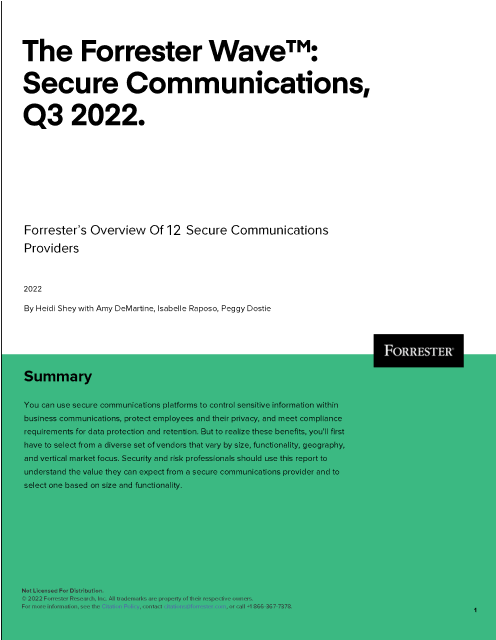 Now Tech: Secure Communications, Q2 2022
.
Build the business case for secure communications and understand how to assess, select and implement the right solution.
Enterprise functionality
.
An end-to-end encrypted environment, with enterprise functionality. Support for E2EE search, antivirus and data loss prevention.
 
Delegated authentication (including LDAP for Active Directory) and group sync enable easy provisioning/deprovisioning, Single Sign-On and secure access management.
Download info sheet
Built on Matrix
Matrix is an open network for secure, decentralised communication, connecting 80M+ users over 80K+ deployments.

Governed by The Matrix.org Foundation, the Matrix protocol is an open standard with open source implementations, supporting a vibrant developer ecosystem. Element was founded by the team behind Matrix as a way to bring it to the mainstream.